After the collapse of the Roman Empire in Europe, the Arabs, who in medieval times were sometimes called "Saracens" or "Moors," ruled Sicily for over two centuries. Their influence in southern Italy was nothing short of monumental, and that is what Norma wants to depict with its unique menu and flavour profiles. 
Norma occupies a cosy spot in Arkan Plaza Extension in Sheikh Zayed. The restaurant is hidden away with lots of outdoor greenery and a dimly lit indoor atmosphere. Even though the interior is relatively modern, the menu options have quite an interesting Moorish twist filled with North African spices and flavours. We browsed through their menu as we got to our outdoor table and decided to go with the Spaghetti Fritters (100 LE) from the snacks section – served with parmesan cream dip sprinkled with herbs.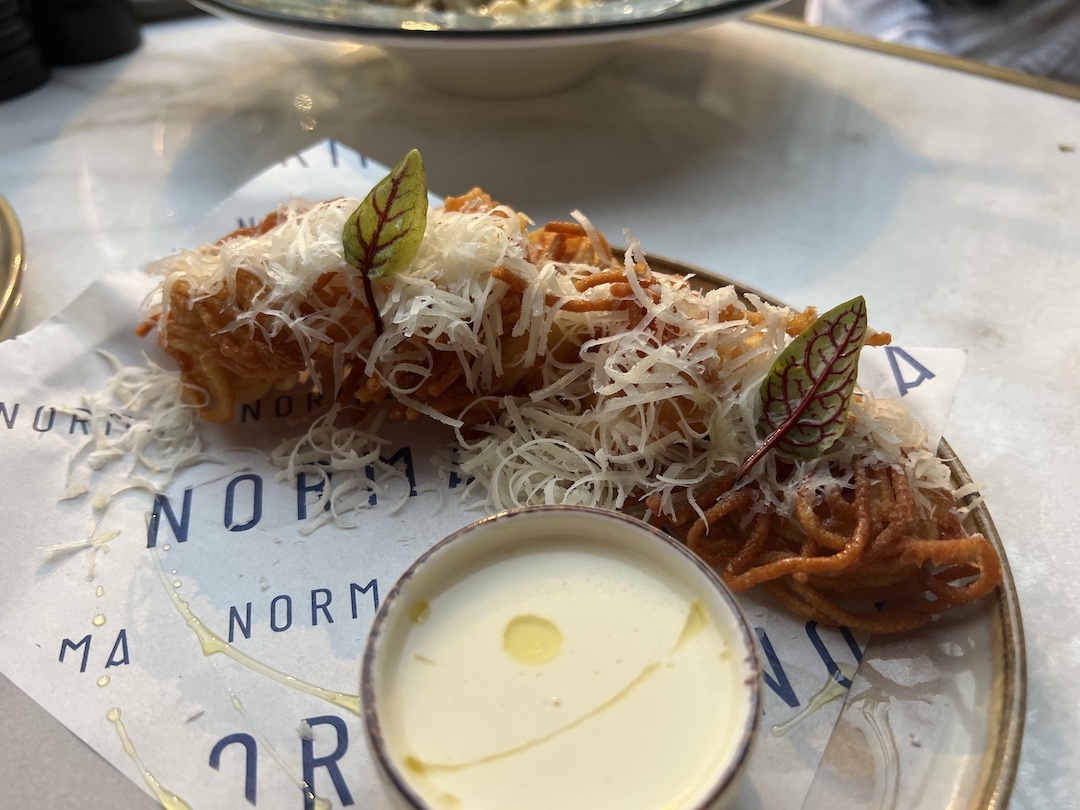 The snack had an exciting and satisfying crunch, but the sauce lacked flavour and texture. We had also ordered two mocktails, the Strawberry Mirtilli (130 LE) – Blueberry puree, strawberry puree, lemon juice, mint, and apple juice, and the Mango Passione (130 LE) – Passionfruit puree, mango juice, lemon juice, and grenadine. Both were incredibly refreshing and bright, perfect for a sunny afternoon.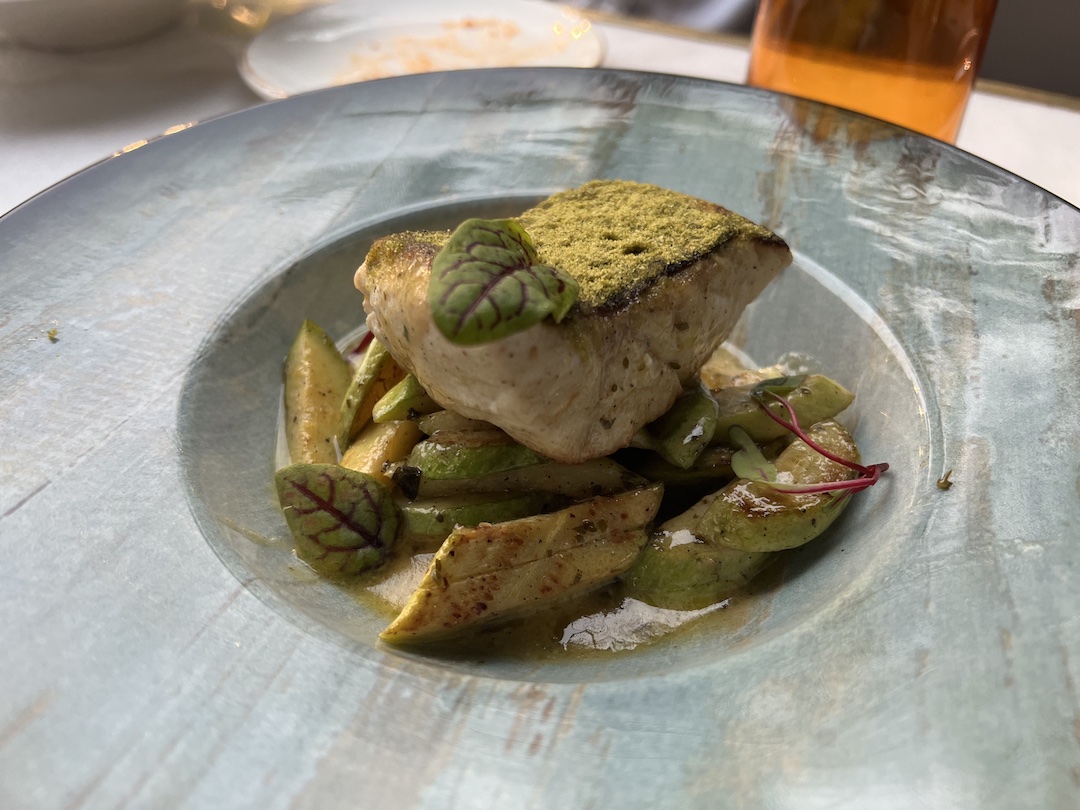 For our mains, we first went with the Seabass (360 LE) – served with spring herb pangrattato, trombetta, courgettes, and smoked anchovies butter sauce. Unfortunately, this dish had a mediocre flavour profile that fell short on the spice meter. However, the Ravioli Al Tartufo E Funghi (240 LE) was extremely creamy and flavourful. The mix of ricotta cheese, truffles, mushrooms, and fresh herbs amped up the pasta dish to creamy perfection.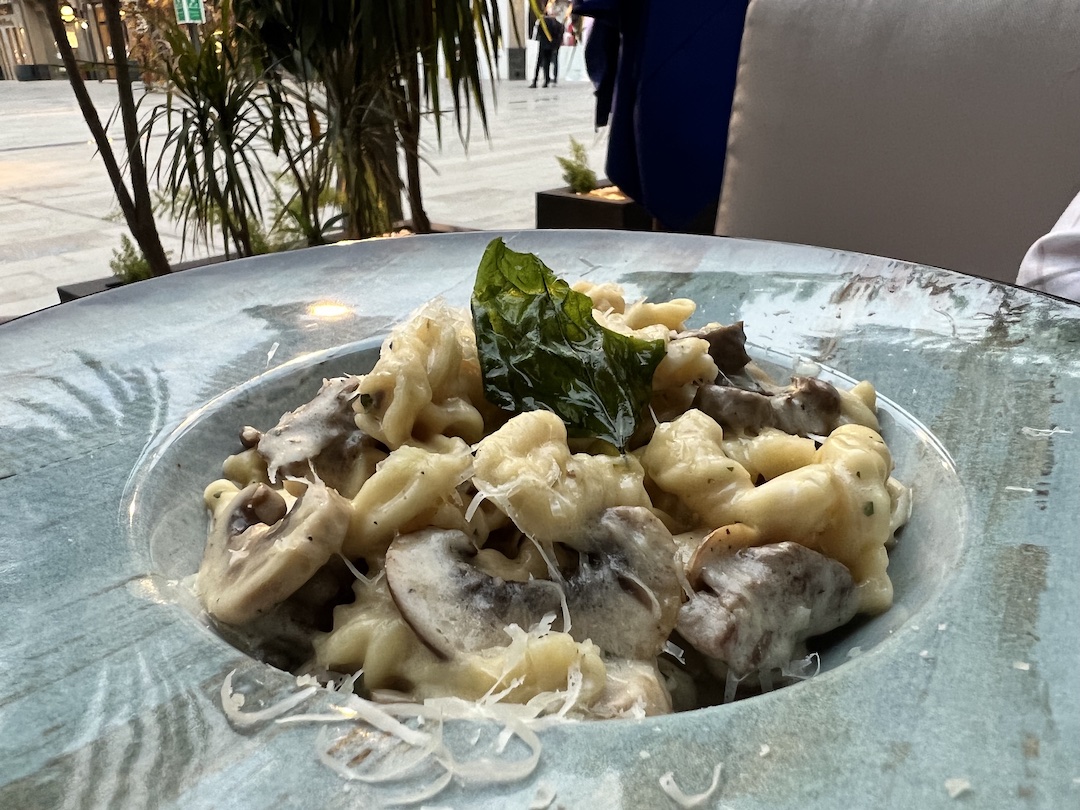 Perhaps the star of the show was the Norma Aubergine Parmigiana (215 LE) from the Secondi section; the eggplants were fork tender, perfectly spiced, and were a melt-in-your-mouth heavenly bite.
We wanted to end the meal on a sweet note, so we got one order of their Homemade Cannoli (130 LE) – three rolls of cannolo, each stuffed with a different ricotta filling, dark chocolate, candied orange, and pistachio. The cannoli were light and fluffy, and the flavour that stood out was the candied orange with a zesty, which had a refreshing aftertaste. We enjoyed our meal at Norma, and the staff were exceptionally welcoming and attentive.