Oak Grill: A Class Act in Fine Dining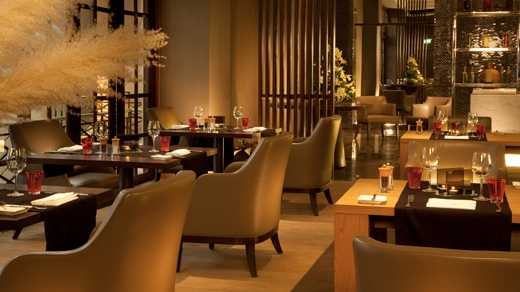 The weekend has almost arrived, and you're looking for a fun, classy restaurant with food selections to rival the best of the best in Cairo. Where do you go? Oak Grill is the answer. One of the newest additions to the Conrad Cairo Hotel, Oak Grill is an upscale venue with modern décor and – simply put – very tasty food fare that is perfect for a romantic meal with your significant other or a weekend evening with friends.

Oak Grill maintains an atmosphere of intimate exclusivity thanks to its relatively small size, dim lighting and hues of blue and grey throughout the interior décor. Modern, artistic interpretations of the classic chandelier and wine rack are also featured prominently in the restaurant.

Simply-clad waiters are at your every beck and call without being overly-attentive. Expect a good dose of privacy when dining at this restaurant. In fact, one of the only bad things that can be said about Oak Grill is that service can sometimes be a bit absent, although it feels as though to the waiters do so in order to give you privacy with your dining companions.

For starters, try the Maine lobster salad with mango emulsion, or the rock oysters. The smoked tomato soup with basil and whipped mascarpone is quite a glamorous take on a basic soup and a healthy vegetarian option.

Meat lovers will truly appreciate the fine selection of grilled entrées: lamb chops and tenderloin steak are imported from Australia, rib eye steak and prime strip loin steak from the USA. The restaurant also offers domestic organic chicken and ostrich fillet. For those with a more adventurous appetite, try the wild sea bass fillet with truffled potatoes and leeks, or the butter poached lobster tail in vanilla mousseline with sweet carrot purée and green vegetables.

Enjoy their varied dessert options as low music plays subtly in the background.