Olive & Oil: Run-of-the-Mill Lebanese Restaurant at Arkan Mall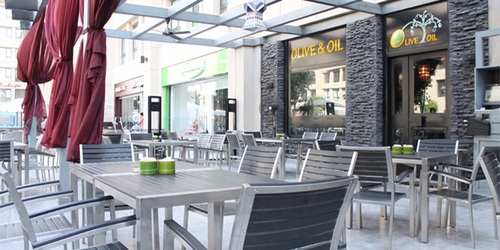 Cairo's restaurants scene has been sprouting more and more diverse cuisines; but we're all creatures of habit and when it comes to Lebanese food, we all have our favourites. Whether it's the smell of grilled meat, or filling up on a fiesta of appetisers, Lebanese cuisine always gets our juices flowing.
Located in Arkan Mall, Olive & Oil is a modest Lebanese family restaurant where you go to eat until you can eat no more.
While the spacious indoor area takes on a bold style using olive walls and bulky purple couches, the outdoor area is very basic, scattered with metallic chairs and tables that fails to reflect the restaurant's overall relaxed vibe.
We started our meal with stuffed vine leaves and pomegranate sauce (24LE), Halloumi Manakeesh (30LE) and Spicy Potatoes (4oLE). While the vines leaves were standard in flavour, the pomegranate sauce was a sweet and tasty addition. As an appetiser, the portion was ideal.
While the Manakeesh were quite large in portion, taking on a pizza-like shape, in flavour they were quite disappointing, seemingly over salted and lacking cheese. In fairness, however, the bread itself was soft and freshly baked.
The stand out of our appetisers, were the spicy potatoes; sliced into small cubes, taking a golden fried colour and sporting a dash with of Oriental herbs and spices, we couldn't help but order more.
Moving on to our mains, we opted for a classic Lebanese chicken fattah (52LE) and spicy grilled shish tawook (58LE).
With the usual combination of yoghurt, chicken, garlic, toasted bread and a dash of herbs, we had high hopes – this is, after all, one of the most popular Lebanese dishes. Unfortunately, however, it ended up being rather mundane; the chicken tasted defrosted and the expected carnival of flavours was just lacking.
The traditional shish tawook platter, served with brown rice, grilled vegetables and fried cheese sticks, was exceptional. Prepared in a sweet and spicy marinade, the chicken was tender, juicy and sporting a nice herby kick, it was complimented perfectly by the side of cinnamon brown rice.
While Olive and Oil's menu certainly offers a wide variety of Lebanese dishes and a family-friendly atmosphere, there's very little to make it standout amongst its competitors, especially given the wavering consistency.