Olives: Decently Priced Lebanese Food in Downtown Katameya Mall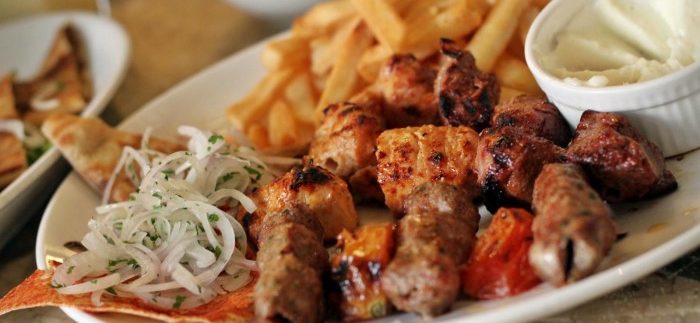 The great thing about Lebanese cuisine is that it hits the spot. It strikes a fine balance of meats and carbs versus very tasty salads and appetisers, all se bursting with aromatic seasoning. With that in mind, we decided to stop by Olives in Downtown Katameya Mall for a quick lunch.
Having previously visited Olives way back when Downtown Katameya Mall was but centre of empty shop spaces, New Cairo as an area has grown tenfold in terms of popularity and, by extension, traffic. We wanted to see how the restaurant would handle itself with the added pressure, and if it could have possibly improved in that time as well.
The small indoor area is a little uninviting, so we decided to sit outside in the terrace. The maroon colour scheme, accented with orange wood coloured chairs, glass tables and the few plants lying around does well to break the grey monotony that the mall seems to have embraced.
A waiter greeted us when we approached the restaurant and showed us to our seat. He placed two menus on the table and then retreated giving us space to browse. The menu consists of all the usual Lebanese classics, from cold and warm mezzas and salads to the manakeesh and grill items. It also features some international items like pizzas and burgers, but we weren't interested in those.
We opted for some Chicken Liver (25.85LE) from the appetisers, Boneless Chicken – Mesahab – (48.5LE) and a Mix Grill (64.85LE) from the main courses with sides of French fries and sautéed vegetables.
The Chicken Liver appetiser was served quite promptly. With a tasty and tangy sauce, were assuming contains molasses, the Liver was a definite success and had us eagerly awaiting the main courses, which were served very shortly afterwards.
The Mesahab dish was considerably large. The chicken was marinated and cooked well, and managed to retain a lot of juiciness. Additionally, the French fries were at a perfect crisp, but the sautéed vegetables were regrettably bland.
The Mix Grill, similarly, was decent in portion. Containing kofta, kebab and shish tawook, we were particularly fond of the kofta which was very flavourful. The kebab, while also marinated well, was a little overcooked and felt more chewy than needed. The shish tawook didn't stand out.
With an all around good experience, we figured we'd try their dessert menu and went for an Oriental classic: Konafa with Cheese (23.85LE). While the layer of cheese and syrup was tasty but a little on the sweet side, the konafa was drenched and failed to maintain a decent crisp, ruining the texture ratio of the dish.
We enjoyed our experience at Olives, but be aware when sitting outside in a mall that it gets pretty loud. Besides that, it serves as a great spot to have a decently priced filling breakfast, lunch or dinner.