Omar's Café: Open Buffet Fetar Feast
Cairo Marriott Hotel & Omar El Khayyam Casino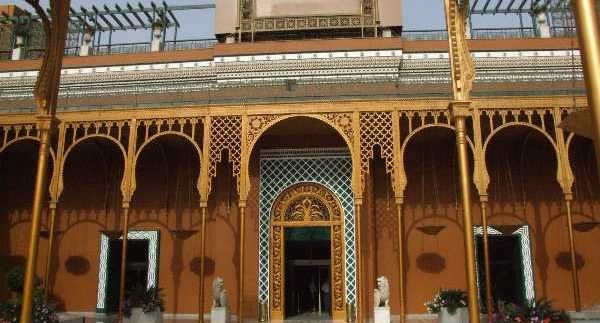 There's something about the sight of an open buffet that
makes the average Egyptian slightly insane. It doesn't matter how reserved or
proper we may be; the minute we see the stainless steel food containers, all
inhibitions are lost as we pile up our plates as if tomorrow were
Armageddon.
This, according to many anthropologists and wise people*, is
due to two factors: first of all, we Egyptians love unlimited amounts of food.
Second of all, we love food at a bargain, and paying a set price for a buffet
meal leads us to believe that we must eat our money's worth; even if that means
gorging ourselves on food.
Arriving at Omar's Café, the Cairo Marriott's Egyptian
restaurant ten minutes before fetar, we were surprised to find the buffet
corner already packed with diners filling up their plates. Ramadan buffet
connoisseurs know that an even smarter trick is to hit the buffet just after
the prayer call, when everyone's busy breaking their fast and the buffet area
is nicely empty.
For a set price of 250LE (tax and service included) per
person, you get unlimited refills of soups, salads, main courses, desserts and
traditional Ramadan drinks.We were
given a choice between orzo soup (lessan asfour) and lentil soup, with the
latter being a warming, though rather bland start to our meal. The salad bar
included the basic greens as well as a wide selection of pickled vegetables,
chilled meats and creamy dips. The chilled liver with sweet sauce was a smooth
and tasty appetizer, though the chilled, stuffed tomato was nothing
extraordinary. The bread corner featured
very fresh breads ranging from a bagel-like sesame ring with a soft centre to
thyme-infused pita bread, all of which were delicious.
Main courses include stir-fried Alexandrian liver, kebbeh in
a white cream sauce, rice with cinnamon and beef chunks in tomato sauce. While
everything tasted standard for hotel cuisine, the kebbeh definitely stood out,
and was succulent without being too chewy in its pleasant cream sauce.
Dessert consists of all your traditional hotel dishes, from
the Om Aly (which was surprisingly dry) to the rice pudding and bite-sized
oriental sweets. We were blown away by
their pumpkin dessert, which was sticky, thick and almost too sweet with
whipped cream on top.
Having declared defeat at our sixth helping while staring
wistfully at the piles of food glistening in the distance, we asked for our
cheque and were surprised to find that the bottle of water that had
been placed at our table was not part of the 250LE-deal, even though we hadn't
ordered it.For 250LE, one would assume
that water would be included.
Omar's Café is very much a hotel restaurant, with green
parquet floors, elevator background music and a few, sporadic Egyptian touches
to the decor. While the food was good and of standard quality, it's nothing
to write poetry about. And as attentive as the service was, it was sometimes a
little too quick; with our plates often being removed before our forks even
made their way back from our mouths.
Nonetheless, the open buffet makes for a good albeit
expensive option if you're in Zamalek and too tired to cook fetar.