Kempinski Nile, 12, Ahmed Ragheb Street, Garden City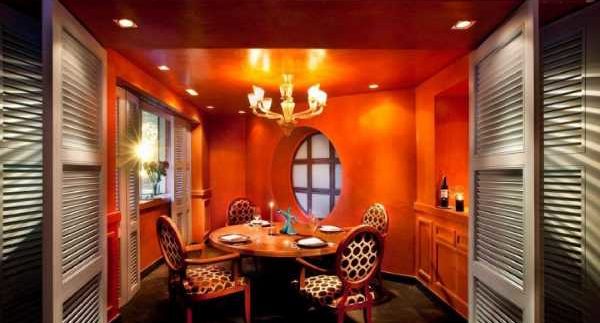 While Egypt has
its share of luxury hotels, every now and then a new hotel opens that blows the
competition out of the water. The Kempinski Nile Hotel on the Garden City Corniche
barely made a beep on the Cairo
airwaves when it had its soft opening in June 2010, but word is spreading fast
about the Swiss luxury chain's impeccable restaurants Blue and Osmanly.
Located on the
hotel's first floor, Turkish restaurant Osmanly could very well be taken for
your typical hotel restaurant, with average interior decor and subtle background music. However, once you've tasted the food, you'll find
that this restaurant is far from typical. In fact, in our humble opinion, it
could very well be the best food you'll have in Egypt.
Once the friendly
host guided us to our table, a waiter brought a large brass water jug and
bowl, and poured sweet-smelling jasmine water onto our hands, after which we
were offered warm hand towels.
The enthusiastic
general manager brought over a complimentary amuse bouche of lentil soup in
white Turkish cups, followed by a complimentary plate of piping hot fresh pita
bread with dips of olive oil, black olive tapenade and cream cheese. The combination of the hot bread and dips had
us gorging ourselves.
The spoon salad
(40LE) was a small but adequate portion of parsley, spring onions, walnut and
tomatoes with pomegranate that gave a sweet but tangy twist. The Turkish manti
(30LE) was a hot bowl of fried and crunchy beef ravioli that blended perfectly
with its topping of yoghurt and red pepper sauce.
Feeling stuffed
and wary of our impending main courses, we were delighted when the waiters
brought shot glasses of pomegranate sharbat to cleanse our palates. The juice
was a fragrant and perfect blend of pomegranate nectar with cloves, cinnamon
and ice cubes. In fact, it was so good that we took tiny sips, trying to
prolong the exhilarating experience as much as possible.
For our main
course, we were blown away by Hunkar's favourite (125LE): a tiny portion of
chewy, juicy beef tenderloin sat atop a dreamy béchamel cream and brown beef
sauce, with a tender piece of grilled eggplant. The food was so delicious and
so spot-on that we were stunned into silence for a good five minutes.
The pilic topkapi
(125LE) induced a similar foodgasm: a slice of succulent chicken was filled
with steaming rice and shallots bursting with flavour, drizzled in a subtle
chicken sauce and accompanied by lightly steamed green beans.
Just when we
thought it couldn't get any better, our dessert of baked pumpkin pie (35LE)
arrived: a small slice of baked pumpkin over dry brioche pastry with tehina
(yes, tehina!) and vanilla ice cream, with a garnish of raspberry sauce and two
delectable chocolate flakes. Although the dessert was barely three mouthfuls,
fireworks exploded in our mouths and we sunk back into our seats in absolute
bliss.
Despite stellar service and the best culinary
experience we've had in a while, the bill seemed very reasonable for such a
premium hotel: 550LE for two people, including two juices and a bottle of Aqua
Panna water. This is a restaurant that we'd definitely go back to, even if just for
the experience of their pumpkin dessert.