Outback Steakhouse: Aussie-Inspired Cairo Dining
Tivoli Dome, Omar Ibn El Khattab St.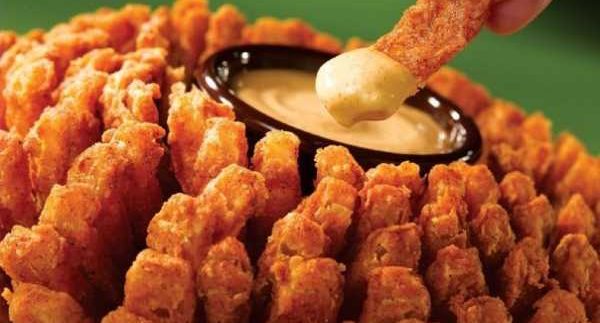 Tivoli,
Heliopolis' new self-proclaimed food republic,
is the newest addition to the Cairo
dining scene. It's basically one large, outdoor food court filled with international
food chains surrounding a large decorative fountain. Most restaurants in Tivoli are chains that Cairo
is already familiar with, including Pascucci, Cedar's and Samurai Sushi. One chain
that is new to Cairo
that people seem to be flocking to is Aussie-inspired steak restaurant Outback
Steakhouse.
The bloomin' onion appetiser is an Outback original
and worth all the damage it could possibly do to your waistline. It's a large
Vidalia onion cut open, breaded, fried and served 'bloomed' like a flower. Each
of the onion's petals is easily torn off to be dipped into their signature
dipping sauce; a creamy sauce with a kick. It's a whole new take on onion rings
and a fantasy for your taste buds.
The Alice Springs chicken
main course consists of two grilled chicken breasts topped with sautéed mushrooms, strips of beef bacon and melted Monterey
Jack and cheddar cheese. There's a honey mustard dipping sauce, although the chicken
itself has a very juicy flavour. It's served with your choice of sides; while the
vegetables side includes nicely steamed broccoli and carrots.
The sirloin steak was flavourful and a good cut of
meat; it's definitely one of the best steaks in Cairo we've tasted. It wasn't the juiciest,
fattest steak ever; but is sure to satisfy a steak craving. The steak came with
a well-baked potato and topped with a traditional scoop of butter, sour cream
and finished off with chives.
The chocolate thunder from Down Under dessert is epic.
A large pecan brownie is crowned with a large scoop of vanilla ice cream and
then another scoop of what tasted like homemade whipped cream with chocolate
shavings. Surrounded by warm chocolate sauce on all sides, the brownie had a
generous amount of pecans and was served fresh out of the oven.
Don't miss an opportunity to try Outback's delicious
non-alcoholic drinks. The classic mojito tastes like a limey, minty sprite, and
is served with fresh mint. The pina colada was especially refreshing, being the
perfect blend of crushed ice and pinapple juice. It's a great treat for a hot summer day. Both
drinks are sweet compliments to the savoury entrées.
The service was terrific. When the steak arrived, the
waiter even asked us to test the steak and to see if it was cooked the way we
requested. The manager also stopped by our table to ask if everything was to
our liking. Appetisers average around 40LE, steaks range between 60LE to 120LE and other
entrées cost around 40LE to 75LE. An appetiser, two entrées, a dessert and two of
Outback's drinks cost around 400LE.