Ovio: 'Artisan Food' Arrives in Maadi as European Restaurant Opens New Branch
Royal Maadi Hotel, 11 Road 18,
Already established as one of the most popular restaurants at Galleria40, Ovio is the latest newcomer to the ever-growing Maadi restaurant scene, with the eatery's European menu and quaint atmosphere a potentially perfect fit for an area that is expat-heavy.
Divided into two areas, Ovio has a Parisian-inspired outdoor area perfect for brunch with friends, while the indoor area has an exposed, industrial-style ceiling – a common feature in Cairo restaurants these days – as well glossy black stones wall, which reminded us of Harry Potter's Ministry of Magic, and a mouth-watering display of desserts, honeys and olive oils available in different flavours.
We started our meal with a complimentary bread basket, which were served alongside a jar of minced black olives – the bread was fresh and it made for a nice, simple opening to our meal, before ordering an Apple Chicken Salad (62LE) as our appetiser, along with Peach Dream (28LE) and Spinach (28LE) smoothies.
A refreshing mixture of exotic passion fruit flavours with citrusy lemon, sweet peach and grenadine syrup, the consistency of the Peach Dream smoothie was spot-on, while the grenadine syrup pulled everything together to make this cocktail a great concoction of tart and sweet. The spinach smoothie was just as good, though the otherwise perfect mixture of bananas, orange and raspberry overshadowed the spinach flavour.
Now to the food. A messy combination of mixed greens, parmesan cheese, chilli pepper pieces, Granny Smith apples and grilled chicken cubes, the salad had plenty of flavour, but the stars of this dish are the walnuts and the citrus vinaigrette which complimented all the ingredients.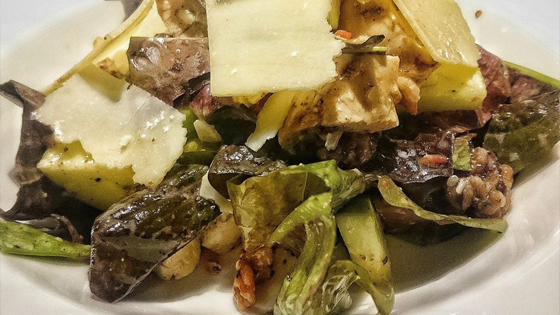 With plenty of tempting choices with main dishes, including Beef Stroganoff (95LE) and Rotisserie Chicken (85LE), we went with Chicken Cordon Bleu served with mashed potatoes and sautéed vegetables (74LE) and a Swiss Burger served with French fries (68LE).
Filled with smoked turkey, beef bacon and cheddar cheese, the chicken was tender and boasted an outstanding, crispy parmesan crust; but in being served on top of the mashed potatoes, it became somewhat soggy. That's not to say that we didn't enjoy the mashed potatoes; it was perfectly creamy but needed a kick of seasoning, while the sautéed vegetables had a delightful fresh taste.
With a perfect burger to bun ratio and a light and fluffy brioche roll on-top, the Swiss Burger was slightly overcooked, but nonetheless had unique flavours with the melted Gruyere cheese, the roasted mushrooms and the caramelised onions stepping in to elevate the overall taste. The French fries, meanwhile, were perfectly seasoned and the serving of potato salad – with an interesting hot dog addition — gave it a unique flavour profile.
We finished our meal with Pâte à Choux (35LE) for dessert, which was the highlight of the meal. Comprised of cream puffs stuffed with vanilla ice cream and topped with craquelin (a crunchy brown sugar topping) the pâte à choux had a strong toffee caramel flavour which worked so well with the addition of roasted almonds. Perhaps the most exhilarating part of the dessert (yes, dessert can be exhilarating), whoever, was watching the waiter came to our table and casually pour some bittersweet chocolate sauce over the dessert – it's the little touches that matter.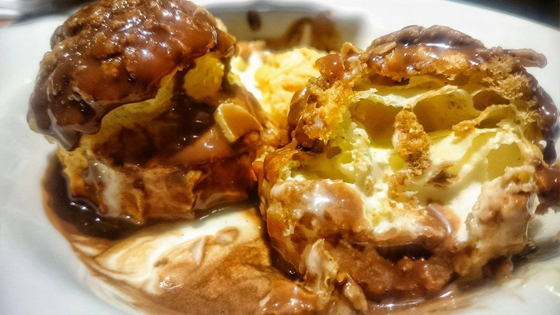 From the quiet and cosy ambiance to the delicious food, Ovio is looking like it will be a favourite in Maadi. With a strong menu and a great atmosphere, not to mention friendly and professional staff, there was little to complain about at the time of our visit.
AK
Quality Food and Service
Write your review