Bakeries & Patisseries,Coffee Places,International

We simply couldn't pass up the chance to try out Ovio's Ramadan Iftar. This year, they offer a Turkish Cuisine open buffet, which includes juices, soups, appetisers, and salads (95 EGP). For the main course, you can choose from their original menu, which includes burgers, pastas, and several chicken, fish, and meat dishes. Since it is Ramadan, you need to make a reservation, so we made one by phone, and went there a while before Iftar full of expectations.
Once you arrive, they ask you about your preference with regards to Ramadan juices: Tamr Hendy, or Karkadeih. You also get a bread basket with sesame and black seeds; the bread was tasty, with incredibly fluffy dough. At the buffet we got to choose between two soups, vegetable or zucchini; an array of salad options, including Spinach and Beetroot Salad, Apple with Turkish Grilled Chicken Salad, Green Salad, and Caesar salad; and a selection of hot and cold appetisers, such as Spicy Tomatoes, Turkish Labnah, Spring Rolls, and Lahmacun.
For our mains, we opted for the Steak au Poivre (158 EGP), served with spiced basmati rice, which we exchanged for mashed potatoes. Our other choice was Grilled Salmon (175 EGP) which comes served with sautéed vegetables and herbs, as well as French fries with herbs and lemon sauce.
It didn't take them much time to prepare our food, and the feast looked so appetising, like a festival of colours had landed right on our table. So what about the taste? Well, for the soup, we found the vegetable soup quite tasty and light with perfect seasoning. The zucchini soup was also very creamy and made for a good start to our meal. We recommend adding some crushed pistachios to the zucchini soup, as they proved to be a perfect addition.
While the salads were all light, fresh, and tasty, what really interested us were the appetisers. First things first: the Spicy Tomatoes, which were sliced tomato pieces with onions, red peppers, and hot peppers, mixed in with harissa, garlic, pomegranate molasses, and parsley. It tasted amazing, and wasn't too spicy (indeed, we would have preferred it a little more so), but the pomegranate molasses probably mitigated the harissa's spicy taste.
The Baba Ganough salad was very tasty. In fact, it's one of the lightest Baba Ganough salads we had. We also loved the Turkish Labnah which was light and fresh with garlic, dried mint, black seeds, and olive oil.
Next up were the Spring Rolls. It was our first time eating spring rolls that were stuffed with pastrami, mozzarella cheese, rosemary, and thyme; a unique mix that proved exceptionally delicious. The harsh saltiness of the pastrami mixed with the smoothness of the other ingredients and the crunchiness of the roll made this a great appetiser. Finally, the Lahmacun was flatbread dough cut into slices and topped with minced meat, tomatoes, red peppers, parsley, and spices. It was the first time we saw something like it, and it worked perfectly well with the rest of our meal.
Now for the stars of the show, the main dishes. The grill marks alone on the salmon made our mouths water. It was cooked absolutely perfectly, topped with a zesty lemon sauce, and was served with herbed fries. We can safely say, that Ovio makes the perfect salmon dish. That being said, we have to warn you, the portion is relatively small.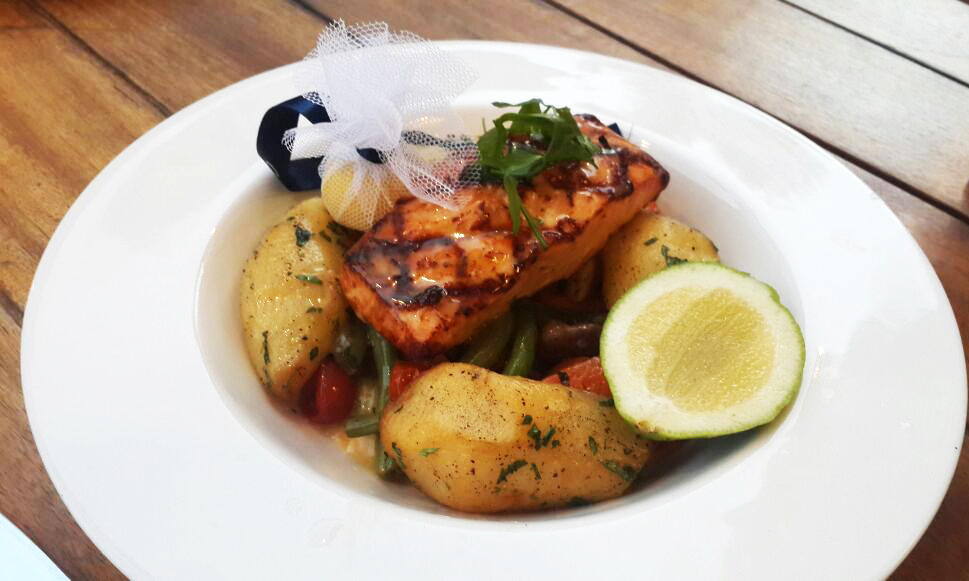 The Steak au Poivre was similarly delicious. We ordered it well done, and it was excellently cooked to order. Ovio offers premium meat cuts, and this is very much reflected by the meat's taste. Despite the pepper sauce being a bit too scarce for the steak size, it added a lot to the taste.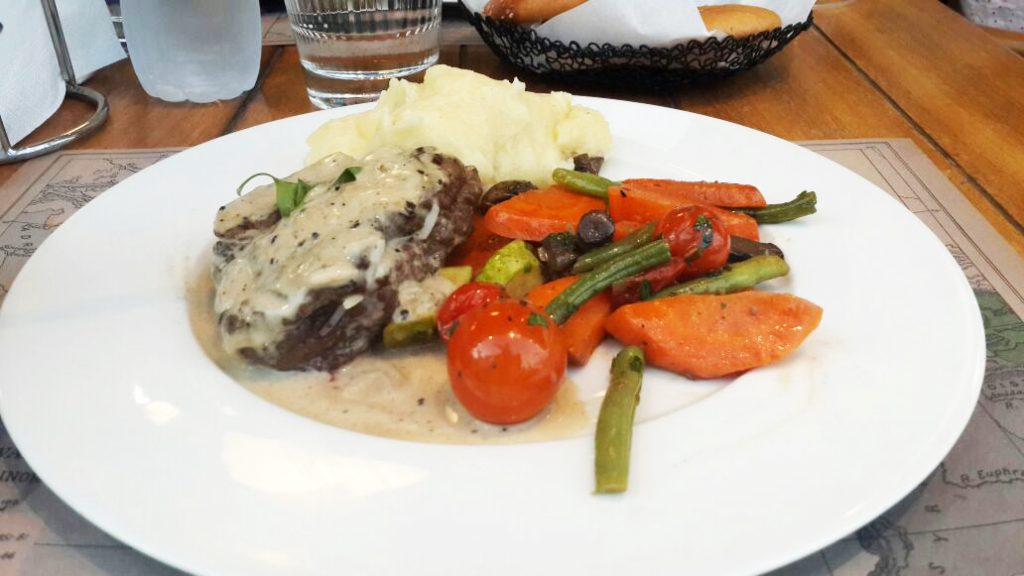 We had a great time at Ovio, and we will surely return for another visit soon.
Translated by: Sherif Khairy