Oya Lounge: Flashy Hangout Spot in Mohandiseen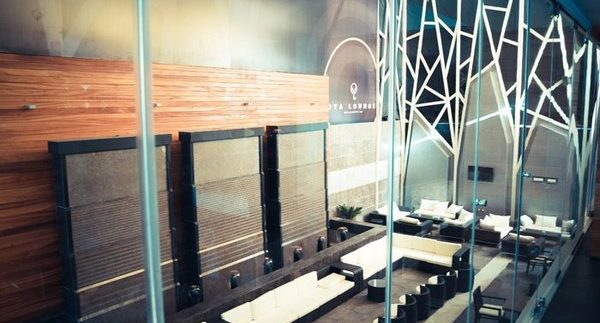 Recently opened Oya Lounge in Mohandiseen is made up of a big L-shaped outdoor area, with a smaller two-storey air-conditioned inside area to the side. At the entrance, there is restaurant-style table-seating, which towards the back of the venue gradually transforms into lounge-style couches and very comfortable looking lazy chairs. Different parts of the restaurant are lit in different colours: cool blue, dark pink, soft purple and temperate red.
Being a lounge, the music at Oya falls into the easy-on-the-ears category. By which we don't mean pan-flute versions of the Beatles catalogue but a nice blend of Café Del Mar-style remixes of Depeche Mode, Moby and Coldplay songs. Oya Lounge markets itself as a restaurant, but you can also pop in for just a shisha and a coffee.
As a starter we ordered garlic cheese bread (20LE) and for our main courses we opted for the Arrabbiata Pomodoro Pasta (28LE) and the Oya's Way Steak (85LE). We ordered our meat medium, and for our choice of two side dishes, we picked sautéed vegetables and French fries.
The garlic cheese bread was served as toasted crispy bread topped with melted mozzarella. The mozzarella taste was weak, however, and there was not even a hint of garlic to be found. The red leaf lettuce that adorned the bread had definitely seen better days and was dry and limp.
The pasta was the first of the main courses to arrive. It had a strong thyme flavour and was sufficiently spicy for an arrabbiata. Unfortunately though, it was also crunchy: every bite tasted like there was sand in it – most likely caused by using a pre-dried pasta sauce that hadn't been properly mixed with water.
We were then served what seemed to be a margherita pizza. When we explained to the waiter that we didn't order pizza, but were still waiting for a steak, he quickly disappeared before a second waiter came over to retake our order of steak, which meant at least another twenty minutes of waiting for it.
Meanwhile we were also still awaiting our drinks: a caramel shake (23LE) and a Minto (a mix of mint-flavoured grenadine with lemonade and fresh mint, priced at 20LE). They too had to be re-ordered and took another ten minutes to arrive. Fortunately, they turned out to be well worth the wait. The Minto lacked fresh mint, but was nonetheless very refreshing, and the milkshake was an absolute perfect blend of caramel, milk and ice cream.
By the time the steak finally arrived the pasta was long gone and a dinner for two had turned into two solo eating experiences. The eagerly awaited meal didn't exactly live up to expectations either; we found ourselves eating a very chewy piece of meat, with some pieces so inedible we had to spit them out into our napkin. The sautéed vegetables and French fries tasted fine, but were obviously not worth the 85LE on their own.
Oya Lounge's slogan is 'awaken your senses'; a rude awakening, maybe. After our poor experience with the starter and main courses, we didn't dare order dessert. No matter how mouth-watering Nutella crepe (26LE), Oreo Magnets (32LE), Twix cake (32LE) or chocolate fondue with ice cream (38LE) may sound.
Disappointing eating experience aside, we would definitely recommend you go pay Oya Lounge a visit. It's a cool-looking place with a relaxing atmosphere, ideal as a wind-down to your weekend or an easy-going alcohol-free night. Although they did mess up our order, the waiters were friendly and their service snappy.