Oya Lounge: Simple Ramadan Sohour in Mohandiseen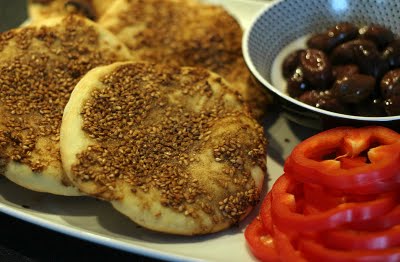 Located in Mohandiseen, Oya
Lounge offers a splendid sohour experience. A mesh of sleek modern interior and festive Ramadan decorations, it offers a perfect
destination for Cairenes to enjoy a Ramadan night out.
A bouncer standing outside Oya's large wooden door reminded us of entering a club; after confirming reservations, we were lead to the table.
Traditions were alive with a big foul cart to the right of the entrance, while
on the other side two women busily prepared freshly baked bread, which filled
up the place with a delicious aroma.
The
design of the restaurant is distinct with a comfortably sized outdoor
area that's surrounded by high walls with added lighting details. A modern waterfall
produces tranquil sounds, and with plasma screens all over, the interior is
sophisticated and equally pleasant.
With
a minimum charge of 100LE per person, we
started our sohour with a mushroom omelette (15LE) that was delicious with
little pieces of fresh mushrooms infused, and a Spanish omelette (15LE) that had
pieces of tomatoes, mushrooms, and green peppers cut into it. We also ordered foul
with olive oil (13LE); the beans came mashed and drenched in olive oil to the
point that they were literally covered in it. The foul was not seasoned well, if
at all, which came as a disappointment for such a standard dish.
We
ordered a plate of falafel (12LE); the four crunchy fried
falafels were not the best and we expected more from a a place that is so meticulous about its appearance. We
also tried their white cheese with tomatoes, which was mildly salty and tasty
with little tomato pieces, it went very well with their freshly baked bread.
The
menu also includes manakeesh with different toppings; you can choose from manakeesh with
cheese (27LE), spinach (27LE), meat (28LE), sausage and cheese (28LE) and halloumi
cheese (24LE). We settled on the one thyme manakeesh (25LE). It was hot and came straight from the oven; cut into slices and topped with dry thyme,
the dish was fresh amd enjoyable.
A
variety of Lebanese grills are also available; shish tawook (48LE), kofta (67LE-58LE),
chicken messahab (45LE), and mixed grill
(85LE) are a few of the options, as well as fatta plates such as chicken fatta (36LE),
fattah with hummus (28LE), and fattah with meat (40LE).
Their
chicken Oya dish (54LE) comes in a thick white sauce with tomatoes and peppers
chopped into it; a total success, the ideally portioned dish was also perfectly
spiced and cooked. Oya also serves fillet with a variety of sauces that range
between 52LE and 74LE.
With
oriental music playing all night, the setting, the decorations, the service
and the reasonable food prices, Oya is likely to become a regular hangout in
Ramadan, and even beyond the holy month.