Palmeraie Grill: Poolside Restaurant at Meridian Heliopolis
Le Meridien Heliopolis Hotel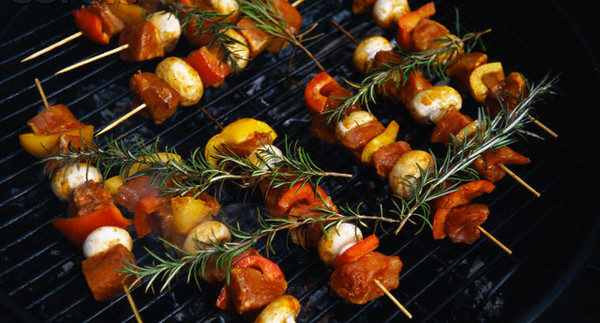 In a city
where restaurant ventures are developing ever so rapidly, it seems that every
owner is expected to follow fads and trends. In a setting that is similar to
a typical scene out of an 80's Egyptian film, Palmeraie is a newly opened grill
restaurant inside Meridian Heliopolis, on El Orouba Street in Heliopolis.
Once you
enter Meridian Heliopolis through the main gate, make your way over to the
swimming pool; you can choose to either sit poolside, near the live performers,
or on an elevated terrace overlooking the premises.
Palmeraie is
what could be described as a typical hotel restaurant though its décor might seem quite outdated in comparison.
The choice
of blue chairs works well with the water of the pool. The candle holders on
the tables however could easily be mistaken for a bong or a medieval torture
weapon. There are two separate menus; one for food and another for drinks.
Alcoholic
beverages such as Cognac, liquors and spirits are available. Whisky types range
in prices from 45LE to 75LE and a Stella will cost you 28LE. Seeing as the
drinks were quite overpriced, we went ahead and ordered mango juice (22LE). We
also ordered an apple shisha; surprisingly inexpensive standing at 13LE.
Everything
in Palmeraie is light; the chairs are very light and easy to move around; the
cups are also quite light, probably since they are plastic. Much to our dismay,
the mango juice also turned out to be quite light tasting, where it lacked that
needed kick. Even though we were practically the only people there, the shisha seemed
to take forever to arrive, and when it did, it tasted quite ordinary.
The food
menu offers a variety of different grills, quite expensive. The oriental mixed
grill (145LE), veal kebab (130LE), lamb kofta and kebab (110LE) were among some
of the grilled dishes available. Also offered were sea food options such as grilled fillet
of sea bass (80LE) and a section of dietary suggestions.
We settled
on the mini hawawshi (45LE) from the vast appetisers' section. The mini hawawshi
was exceptional, served with a side of French fries and traditional Egyptian pickles;
the minced meat was deliciously spiced.
If you're
into the oldies, you're probably going to dig the music being played. Whether
English or Arabic songs, anything 80's was on their list. The singer even sung 'My Heart Will Go On' by
Celine Dion.
Palmeraie
lacks some elements that attract the younger crowds; aside from the minimum charge of
70LE, the prices are very expensive in comparison to similar venues. And while
the live music was entertaining, some more recent and upbeat jams could
have added to the playful, summer ambience.