Papillon: Lebanese Cuisine, Mansion-Style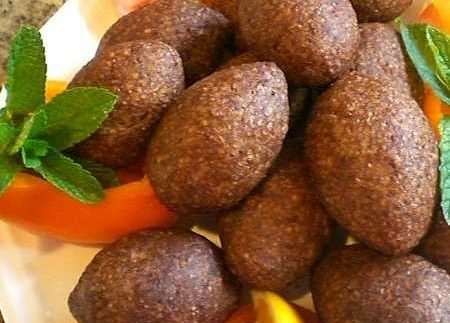 Papillon is a nice, spacious
and almost palatial Lebanese restaurant located on 26th July St. in
Mohandiseen, across from the Zamalek Sporting Club. The large, peach-coloured
building is hard to miss, but doesn't really give away any clue of what's
inside.
Walking through the rustic
wood doors, we were greeted by a lobby of sorts, with comfortable stylish
couches gathered around a coffee table, which end up serving as a reception to
the dining room up the large marble stairs.
Once up the stairs, the
waiter escorted us to one of the large window-side tables in their elegant
dining room, and very kindly asked us whether we minded the TV playing on a
beautiful wooden bureau, before bringing us the menus.
The view from the traditional
wood windows over 26th July St. and the Zamalek Club isn't as impressive as the
interior decor, which is designed in a grand Medieval Italian theme, with
decorative paintings hanging on red and peach-coloured walls, an exposed wood
beam ceiling, a large marble fireplace, comfortable cushioned high-back
armchairs slightly reminiscent of thrones, and chandeliers everywhere.
Sounds amazing, doesn't it?
This mansion is quite cavernous yet it somehow manages to be cosy, giving
diners the feeling that they're having dinner at their Lebanese great-aunt's
house. Fairouz plays in the background and the large, nicely arranged tables
seem ready to host a few families.
We ordered portions of kebbeh, fatoush, boneless chicken, and mixed grill, finishing with crème
caramel, as the 'Lebanese pastries' and 'chef's cake of the day' weren't
available.
The kebbeh (4.50LE each) were
soft, moist, light and flavourful; a nice surprise for a non kebbeh-enthusiast.
The fatoush (12LE) was fresh, with perfectly crunchy delicious fried shami
bread, and a tasty dressing that was just a tad too sour.
The boneless chicken (55LE)
was a large, tender, barbequed portion with special sauce that was almost too
filling. However, the mixed grill (65LE and without the chicken for variety's
sake) was a little disappointing. Tender pieces of meat were…tender, but also
rich and slightly under-flavoured. The kofta kabab was also rather bland and
heavy, and had the distinct taste of meat that proved too much, even for this
carnivore.
The crème caramel (12LE) came
in a syrupy orange sauce that might have been overpowering. It was a pleasant
surprise, though the dessert itself was rather sweet, thick and eggy– but still
good.
At 180LE for two including
water, we had a good meal in pleasant surroundings and didn't have much to
complain about. The service was quick and polite, prices were average, and
portions were alright. We did make a reservation but apart from another party
or two, we were alone on a weekday evening, which only enhanced the intimacy in
an otherwise vast space.