Paprika: Nile-side Egyptian Comfort Food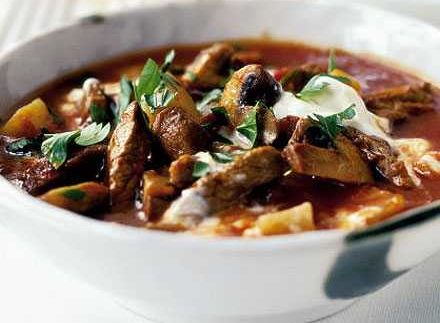 If you've ever
driven along the Corniche between Downtown and the Ramses Hilton, Paprika may
have caught your eye. Between the high concrete buildings and busy Cairene
streets, this homey hole-in-the-wall stands out not only for its dark wood
exterior shaded by trees, but for the delicious home-cooked comfort food served
inside.
Paprika's
atmosphere is a mixed one. On the one hand, its windows face the Nile, the music is soft and jazzy and the whole
restaurant smells of home cooking. On
the other hand, the bright red table cloths don't do much for the ambience and
the straight-backed wooden chairs become increasingly uncomfortable throughout
your meal.
Starting at 7LE
for cold mezzas and capping out at the low 60LE range for large entrées,
Paprika is reasonably priced. Baba
ghanough (7LE) is garnished with olive oil and cumin, and accompanied by hot,
crisp shami bread. A large bowl of fatoush (7LE) mixes bitter and sweet
lettuces with chopped vegetables; it's an utterly refreshing way to cut through
the rest of the heavy cuisine throughout the meal.
A real treat of
Paprika's appetiser menu are the mini kofta in Daoud pasha sauce: the tiny,
tender koftas served in a clay pot filled with slightly sour sauce. It is
difficult to resist eating the entire flavourful dish, but you'd do well to
save room for one of the house specialties: beef goulash (50LE). This savoury
stew is sweetened with pearl onions and carrots; and the meat is high-quality
and braised perfectly. To make the dish even more memorable; opt for the
special rise, an aromatically spiced version with sweet macadamias.
The molokheya (44LE)
is a bit salty and could have benefitted from some sweeter garlic, but the
accompanying chicken is simply excellent. Fried in butter, a golden crust of
skin encases the juicy boiled poultry. The dish is also served with rice;
although we recommend sticking with plain white rice to mix with the molokheya.
The food at
Paprika is hearty and satisfying, so it may be difficult to keep room in your
appetite; but you'd be missing out if you skipped dessert. The soft creamy
layers of the om ali (20LE) are served piping hot. Plump raisins and crunchy nuts give this
traditional dessert subtle texture and flavour. The crème caramel (14LE) is
silken and the thin syrup has deep rich colour.
Paprika is
relatable enough for anyone new to Egyptian cuisine and authentic enough for
local diners to reminisce about their mothers' kitchens. If you don't want to
pay for the frills of more popular touristy restaurants; head to Paprika.