Pasta Città: (Mostly) Italian Restaurant Surprises in Sheikh Zayed
Sheikh Zayed : Beverly Hills, The Walk
Since opening, Westown Hub has been one of the most obvious choices for a great culinary variety in the Shekh Zayed and 6th of October City areas – but it's not the only place in Beverly Hills Compound that you can find good dining at. Residing in the heart of The Walk in Beverly Hills, Pasta Città has already proven popular for its home-made and home-grown ingredients.
A simple restaurant of almost just a terrace, Pasta Città has an outdoor dining area with metal seats and tables, while the indoor area follows a simple industrial design, with clear walls, exposed piping and low-hanging lights.
While Pasta Città is self-proclaimed Italian restaurant, the large menu is peppered with several un-Italian dishes – think Swiss dish, Chicken Cordon Bleu, Russia-native, Beef Stroganoff, and even Country Fried Chicken from the good ol' US, while there's even several feteer options. Despite that, the menu still covers Italian classics – pastas, pizzas, risottos, etc.
With plenty of intriguing dishes to choose from, we decided to go down the Italian route with Chicken Pizza (45LE) and Penne Alfredo Pasta (55LE) as our mains, though we started with Chicken Crispers (35LE) as our appetiser.
Five crispy breaded chicken strips stuffed with tender well-seasoned chicken breasts, every savoury bite gave a good crunch and a satisfying taste that was made even better once dipped into the sweet and sour honey mustard.
The Chicken Pizza – which we ordered with extra cheese and a thick crust – came first, with balanced flavours from the toppings. The grilled chicken stood out with an aromatic and savoury taste, while the other topping drew the perfect backdrop with the tangy tomatoes and both the olives and mushrooms giving a magnificent aftertaste.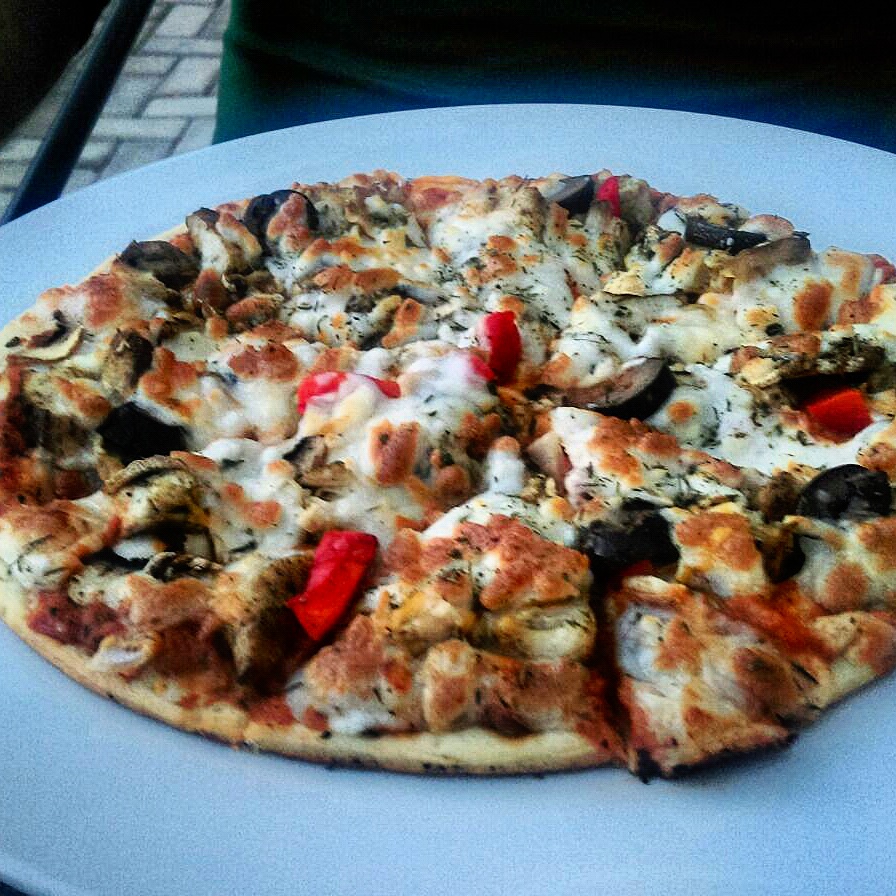 The Alfredo Pasta was just as good, with fresh pasta, a well-seasoned combination of chicken and mushrooms and a perfectly creamy and herbal Alfredo sauce that we couldn't get enough of.
Looking for some refreshments to water down our meal, we opted for What a Beautiful Day (25LE) a delicious mix of orange, lemon, guava and honey and Life is Beautiful (28LE), a sweet fruity mix of apple, peach, mango and strawberry.
When it was time for dessert, the staff offered to select our desserts for us and we didn't hesitate to accept. With a genuine smile, the waiter disappeared into the kitchen, only to come back a few moments later with our mystery desserts.
The first was a Belgian Waffle drizzled with chocolate sauce (35LE); the tender waffle was homemade and had an incredibly fresh taste while the light creamy chocolate sauce perfectly complimented the flavour.
Our second dessert was Oreo Madness (30 LE) which was crushed Oreos sandwiching vanilla ice-cream and a sour raspberry sauce; a delightful sweet and sour contrast that we loved.
Our last stop before we went on our way was at the hot beverage section where we opted for hot chocolate (25LE). An exquisite blend of smooth and creamy melted chocolate that leaves a sweet aftertaste, it was an apt ending to the meal.
Despite the initially worrying mix-and-match menu, the service, the quality and execution of the dishes we were served was remarkable and makes the restaurant a worthy contender on Cairo's restaurant scene; one that we're sure to visit again soon.