Paul: French Boulangerie Now in Korba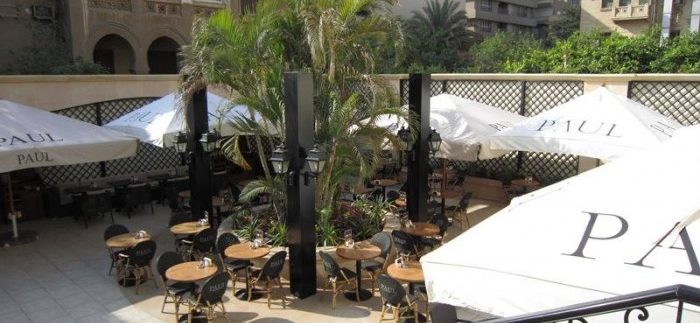 It's not always the food that keeps restaurants in Cairo afloat; sometimes it's just a brilliant use of space. Combining French elegance with the beauty of Korba, Paul is finally in Heliopolis.
The first thing you notice at Paul is how efficiently the space is used – allowing for a lot of customers without compromising privacy and ultimately making you, subconsciously, very comfortable.
The colour scheme throughout the space is a creamy, slightly beige, colour, contrasted against an ever-so-elegant solid black. The windows on the main road let you peek into a wonderful world of baked goods. The proven elegance of simplicity, in addition to impeccable service, brings an authentic piece of the Parisian chain to Cairo.
We decided to open with the Crème de Champignon et Poulet (36LE); a creamy chicken and mushroom soup, which can be served in a bowl or hollowed brown bread. While the chicken and mushroom bits were scarce, the soup had perfect density. Alongside the soup, we were served a bread basket with olive paste, which was unfortunately stale.
The first main course was Escalope Poulet (89LE) with a side of pasta. Delicious and tender, the chicken was perfectly golden and crisp on the outside, while melted cheese and mushrooms only made it better. The pasta balanced just the right amount of basil in the tomato sauce for it to taste flavourful but not acidic.
The second dish was a Croque Monsieur (65LE); an adaptation of the original ham and either emmental or gruyere cheese sandwich with béchamel. At Paul it has been localised to use smoked turkey instead, with the usual béchamel and emmental cheese topped with tomatoes. While unauthentic for obvious reasons, it was still delicious nonetheless.
Before dessert we had a mint lemonade (20LE), which unfortunately was a little lacking punch and flavour, as well as a Cafe Crème (19LE) which is served with delicious pound cake mad in-house.
A chocolate tart (26LE) was our dessert of choice; a dessert reserved for only the most serious chocoholics, boasting a very thick layer of chocolate over of light, freshly-baked tart.
For frequenters of Paul's other branches, there are no surprises here. However, the truly excellent use of the space and Korba's beautiful aesthetics elevates this particular branch a notch above the rest.