Paxy's Restaurant: Korean House of Mystery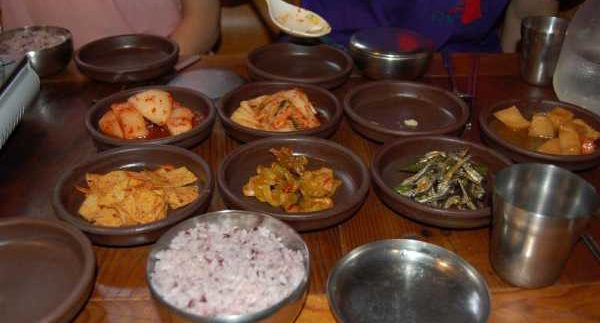 As Korean restaurant Hana Barbeque has recently shut down, we've been
keeping our ears open and eyes peeled for new promising venues serving Korean
food that happened to be lurking around the city.
Drearily located
in the basement of the Amoun Hotel on the west end of Sphinx Square in Mohandiseen,
Paxy's was rumoured to be quality Korean food at a reasonable price – so we
decided to give it a shot.
Simply decorated
and evenly spread with numerous tables, Paxy's was nearly empty for lunch hour.
From the location to the decor and atmosphere, entering this establishment felt
like entering a time warp into uncharted territories of who knows where.
From beginning to
end, the service was top notch and the staff was happy to help with all our
requests. Since we aren't Korean food connoisseurs, it took us a while to
peruse the menu, which contained varied selections of barbecued beef and
chicken with a few seafood options as well. Standard to Korean style, we were
soon greeted with a slew of side dishes including kimchi (fermented vegetables)
of all sorts ranging from string potatoes to grilled sea cucumbers. While the
latter were super salty, the string potatoes were delicately laced with a fresh
burst of lemon.
The restaurant
boasts a table top grill, but due to the late afternoon heat we opted for
lighter options of spring rolls, si chum style shrimp and the chef's special of
grilled seafood atop a pile of rice. For 17LE, the spring rolls were fresh and
piping hot, served with a thick dipping sauce of unknown sorts. Piled high and
extra rich, the si chum style shrimp (55LE) was spicy, decadent, filled with fresh
peas and covered in a sweet and sour sauce.
The chef's
special was served in a sizzling bowl and cost 70LE; varied types of mysterious
fish along with mushrooms and broccoli were poured over rice, turning it into a
soup-like mixture. While the texture and overly fishy taste left something to
be desired, for an extreme fish lover, it might just taste like heaven.
Although a
dessert menu was nowhere to be found, a simple plate of fresh grapes and melon
accompanied our iced tea and lemon juice quite nicely after the spicy, and
somewhat mysterious meal.
Overall, 195LE
for an appetiser, never-ending amount of side dishes, two main courses, and
drinks was budget friendly. While Paxy's wasn't one of our favourites, it's
promising for an adventuresome meal and offers a change of pace when needed.