Peking: Popular Chinese Restaurant Arrives in New Cairo's Downtown Katameya Mall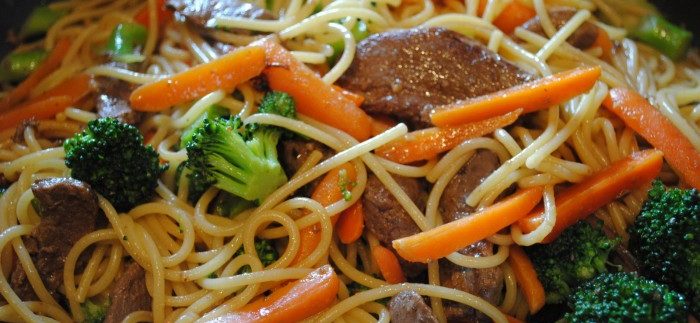 As one of the longest standing Chinese restaurant chains in Egypt, Peking has long been known as the place to go to satisfy Asian food cravings in Cairo, so when we found out about a new branch in New Cairo's Downtown Katameya Mall, we had to pass by and see for ourselves.
Peking holds a unique location in the relatively new shopping complex. Its outdoor seating area is set over a bridge with a few tables aligned next to its rails, overlooking the busy mall. Its indoor seating, however, offers a much quieter and intimate experience with wood-panelled walls and a tranquil colour scheme.
Upon entrance, we were greeted by the head waiter who apologetically showed us to our table indoors as the outdoor seating we had requested was already full. Within a couple of minutes we were seated with our menus neatly laid out on our table.
Peking offers a range of Chinese delights: traditional Won Tons, Spring Rolls and Dumplings were pretty much the only items we recognised in the appetisers sections. The usual soups and salads were offered, with nothing seeming out of place or particularly Chinese other than the Hong Kong Soup – a mixture of prawns and Chinese spices. The main course section comprised of crisp fried chicken and seafood, some stir fried dishes, noodles and some meat-based dishes, ranging from baked to BBQ to stewed options. Strangely enough, some Paellas, very traditional Spanish dishes, were offered as well.
Upon scanning the menu, we decided to go for the Vegetable Spring Rolls (11LE), some Prawn Crackers (9LE) and the Peking Soup (17 LE) for our appetisers. Our choices for main courses included Chicken BBQ (41LE) and Fried Beef Noodles (31LE).
Our food arrived earlier than we had anticipated despite how busy the restaurant was. The Spring Rolls and Crackers were both satisfyingly crispy and light. The hot sauce that comes with the dishes, however, was much spicier than advertised.
The soup was creamy, belly-warming and had actual chunks of chicken in it; a feature many 'chicken' soups lack elsewhere. Our main courses were served next, with all dishes arriving in a pot with a lit candle underneath them. The BBQ chicken tasted quite similar to very oily chicken fajita and wasn't exactly the most pleasant thing to try and digest. The Beef Fried Noodles, however, were delicious with the noodles being well-cooked and seasoned.
All in all, Peking offered us a pleasant but not particularly authentic Asian experience. Despite the food being well-served and mostly delectable, it lacked any distinct Chinese flavours. The service, however, was adequate and on-point with the food's timely arrival and our waiter pleasantly passing by our table half-way through the meal to make sure all is well and to generally make sure our meal was satisfactory.