Picasso Cafe: Zamalek's New Pizzeria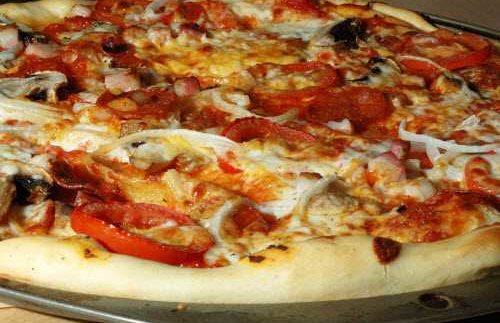 Pizza is
the ultimate comfort food for many Egyptians
and we firmly believe Cairo
can never have too many pizzerias. After visiting Zamalek's newly renovated pizza parlour,
we found that Picasso is raising the bar for pizza in Cairo.
The dual
floor shop located on Al Adel Abou
Bakr Street has a charming interior despite the
slightly odd combination of orange- and green-painted walls. The downstairs area is rather pressed for space;
and the few tables are squeezed between the counter, drink cooler and magazine rack.
The upstairs seating area is more spacious and decorated with photographs–
mostly of Italian street
scenes. The brand-new eatery is bright,
clean and comfortable.
Pizzas
range in price from 28LE to 45LE. Brick-oven baking makes Picasso's pizza
crusts light and crispy. Their tomato sauce tastes a bit saltier than we're
used to, but is otherwise well-seasoned, and the mozzarella cheese is fresh and
flavourful. The pizza is actually quite traditional and not especially cheesy,
so if you like a gooey slice; request extra.
The quattro stagioni pizza (35LE) is loaded with green olives, julienned
green peppers, and slices of tomato and mushrooms. Full of fresh flavour, this pizza was a real
treat, but not true to its name; all the toppings were mixed. A special of the
evening, the five-star pizza (45LE) was a meat lover's dream with five
varieties of meaty toppings including turkey bacon, basterma and beef
salami. This pizza was also a winner,
but not as shareable; as the large slices of meat were placed in isolated parts
rather than chopped up and sprinkled across the whole pie.
While
Picasso offers a number of salads and pastas as well as a few crêpe and sandwich
options, a true appetiser menu is unfortunately absent. A few different varieties of bruschetta are
available. For less than 9LE, four generous slices of crusty bread topped with
olive oil, garlic and oregano is a fine starter, though we were hoping for a
few more options. Picasso makes up for
this short-falling with great service.
When we
requested to push two tables together, the waiter happily insisted on doing it
for us, our bottle of water was served alongside ice-filled glasses and the
server checked in on us several times throughout our stay, which is sure to be
the first of many visits to Picasso.