Pizza Master: One of Cairo's Premier Pizzerias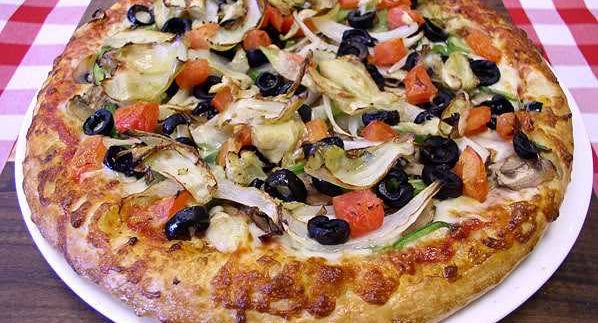 Pizza is one of those foods that will never go out of style. It's
perfect for a gathering of friends and it's the ultimate finger food. With branches
in Nasr City and Mohandiseen, Pizza Master
delivers up a great pizza that's worth dining in for or ordering for delivery.
There are six varieties of pizza: beef, chicken, seafood, hot &spicy
and cheese lovers'. The cheese lovers' pizza is a mouth-watering triple blend
of cheese that has some sort of magical ingredient that the chefs won't reveal.
The plain cheese lovers' pizza is great on its own, but if you're looking for
some fresh veggies; try the vegetarian cheese lovers' pizza. It's topped with
green peppers, onions, olives, mushrooms and fresh tomatoes.
The hot and spicy pizzas pack a surprising amount of heat. Many times in
Cairo, items are listed as spicy and they're really not. Don't underestimate
Pizza Master's heat factor. These pizzas come with fresh hot chilli pepper; seeds
and all. The spicy chicken pizza is a great spicy pizza, because the chicken
shawerma, olives and fresh tomatoes help minimise the chilli's effect.
Don't miss out on Pizza Master's yummy garlic bread. The appetiser consists
of three fat baguette slices with the perfect amount of garlic butter. The
garlic bread supreme, a personal favourite from Pizza Master, is topped
lovingly with mozzarella cheese.
Pizza Master has a two-for-one pricing system. Essentially, this means
ordering one medium pizza is actually ordering two medium pizzas of less or
equal value. Ordering one garlic bread platter is actually ordering six pieces,
not three. Thus, while Pizza Master is great for couples or groups of friends,
it's not exactly ideal if you want to dine alone.
Prices are reasonable: two medium pizzas generally go for 37LE to 40LE,
and that's about enough for three hungry people to share; the portions are
generous.
The Nasr City location is quite comfortable, with a spacious seating
area upstairs, air-conditioning and lounge chairs. Pizza Master is never
disappointing with delivery. It's consistently both fast and fresh.