Planet Africa: Kitschy Concept, Comfort Food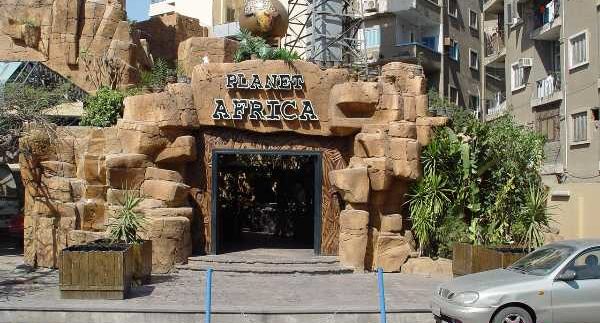 Themed
restaurants in Egypt
tend to induce a feeling of kitschy escapism that's mostly suitable for
children to enjoy. While Cairo
only has a few international chains that cater to an overly cheesy themed
ambiance, Planet Africa seems to take the cake. Boasting a wild atmosphere with
plastic gorillas, dangling vines and man-made waterfalls, this restaurant
attempts to lure you into the jungles of Africa.
But wait; aren't we in Africa already?
With branches in
both Heliopolis and Mohandiseen, Planet Africa's
concept is super kitschy and we found it a little ridiculous that this cuisine represents
Africa just because the menu items sound international;
but they've got something going on with the food nonetheless.
Bathed in
calories, cheese and comfort; the majority of Planet Africa's food is just
that. It is like Chili's with an edge. So when a little homemade comfort food is
what you're going for, Planet Africa hits the spot. The downside to the comfort
is that the service is notoriously slow: should you choose any meat options, it
could take up to 45 minutes to receive your food.
Drink options
include virgin cocktails (15-20LE) with titles such as 'Zebra' and 'Tropical
Heat,' containing unique flavours like hazelnut and green pears.
Allow the monkey
sounds in the background to help you get into the jungle mood. Soups start at
11LE, including the Zulu soup with chicken and corn. Appetisers include typical
fried options of mozzarella sticks, Buffalo wings and potato skins. Steering
clear of the fried delights, we opted for the lighter ruccola mushroom salad (28.99LE)
which came appropriately portioned with a delicious bed of fresh ruccola,
avocado and baby corn, and topped with a light vinaigrette. Though it seemed
like the mushrooms had been replaced by the baby corn; it was tasty nonetheless.
Main courses
include pizzas and pastas, but we were in search of something even heavier to
placate our hunger. For 49.99LE, the kwazulu chicken came with two grilled
chicken breasts topped with melted cheddar cheese and a slice of roast beef.
The chicken was rich with flavour but slightly dry, whereas the freshly
marinated carrots, courgettes and pepper were tender, full of flavour, and
paired well with the heaviness of the chicken and smothered-in-cheese baked
potato.
The fried shrimp
platter (64.99LE) came with twelve perfectly fried, large shrimps with Cajun seasoning
and fresh tartar sauce on the side. Each shrimp was hearty in flavour and
seemed fresher than most of what we've sampled in Cairo. Served with the same sides as the
chicken, the two dishes and appetiser were definitely enough for three people.
Dessert options
are few, though the rabbit (not made from rabbits, luckily) mousse had our
mouths watering. For 18.99LE, the mousse's portion is rather small though
decadent with flavours such as chocolate, white chocolate and a surprising hint
of raspberry.