Plat D'Or: Sizzling in the Suburb
El Mehwar El Markazy, 7th District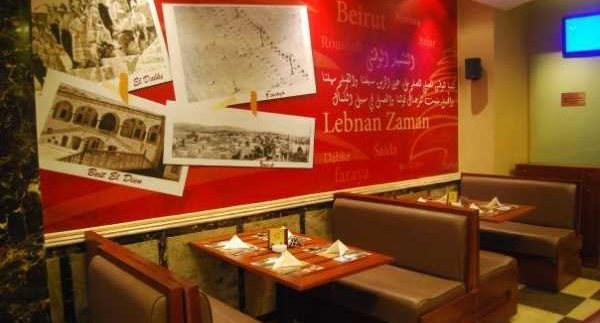 In mezza-obsessed Cairo , we are always looking for a fun, new
spot to get our baba ghannoug on. The
next time you find yourself in 6 th of October City ,
or if you're up for the drive to the suburbs; make time for some fattoush at Plat
D'Or, a family-run Lebanese restaurant and café.
If you like the décor to match your dining experience,
then you will not find your dream restaurant in Plat D'Or. While the eatery is immaculately clean with
gleaming table tops, understated yet comfortable furniture and massive windows
to brighten up the place, the walls are plastered floor-to-ceiling with images
and text 'selling' Lebanon's rich cultural offerings; making you feel as though
you are dining inside a travel brochure. However, if you can get beyond this rather tacky display of national
pride, Plat D'Or really takes the gold for its delicious food.
Plat D'Or's fattoush (10LE) is some of the best in
town. The freshness of the vegetables
really pop and the addition of radish brings a slightly bitter but surprisingly
pleasant quality to this classic Lebanese salad. The key to this dish's success
is not to overdress, and though it was eaten slowly throughout the meal, the
bread and vegetables remained crisp and retained their individual flavours. The
baba ghannoug (10LE) has a rich, but not overpowering smokiness for a smooth,
creamy dip, deep with flavour. Kebbeh (three for 10LE) has a juicy, well-seasoned
mixture of minced meat and onions, but the breading could benefit from a bit of
that moisture as it was slightly dry and crumbly.
The mixed grill for two (86LE) arrives on a steaming
brass grill and consists of generous portions of chicken, veal and kofta with a
few onions, peppers and tomatoes adding colour to the presentation. Each of the
meats is exceptionally tender and seasoned just right. The chicken is flavoured
with a delightful citrus and spice marinade, while the veal is enhanced with a
healthy dash of pepper. The kofta bursts with flavour and is grilled to
perfection.
The key to dining at Plat D'Or is to leave room for
the galaxy cake (20LE). The rich, molten centre of chocolate and caramel is
complemented by indulgently creamy vanilla ice cream. As the name implies, the
dessert is out of this world.
However, the service is not. Although the staff is
friendly and accommodating, when they walk around the restaurant; it seems as
though they are determining if anyone on the ceiling requires attention. Even when sitting near the service station,
it can take quite a lot of waving to grab their attention. However, with several televisions scattered
around airing football matches– this is a great place for catching the World
Cup action this summer– you may forget Plat D'Or's lacklustre service
standards.