Pomodoro: Possibly the Best Seafood Pasta in Downtown Cairo
197 Tahrir St. (off Bab El Louk)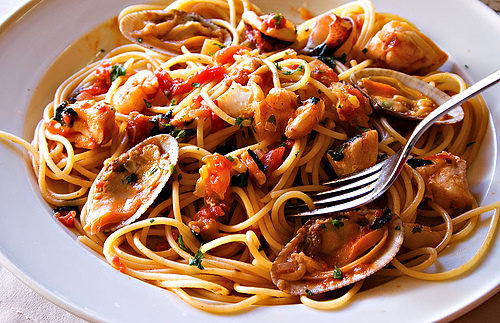 Delicious spaghetti in
clam sauce is but wishful thinking in Cairo, right? Think again. A hidden
restaurant inconspicuously located off Bab El Louk and nearby El Horreya serves
the best seafood pasta south of Alexandria. Two years ago, Cairo 360 visited
Pomodoro when it was just a baladi street eatery barely occupying more than a
hole in the wall. Since then, the restaurant has changed, but it still serves
up one of the best seafood meals money can buy in Cairo.
After buying a much
more spacious adjoining storefront, Pomodoro shed the tiny plastic chairs and
miniature ahwa tables for much more trendy leather chairs and glass tabletops.
The red and black colour scheme, warm atmosphere and enticing aromas combine to
make an ambiance that is not altogether unlike an upscale pizzeria. Word on the
street is that the owner studied culinary arts in Italy, and furthermore he
insists on hand cooking each and every plate that comes out of his kitchen.
Whatever the truth may be, the attention to detail in the kitchen has certainly
satisfied many hungry patrons.
As one can only expect
with the burgeoning of a successful business, there have been some
modifications to the menu and prices over the last two years. The simple menu contains pasta dishes with
either seafood or meat toppings in addition to offering a few sandwiches. The
seafood pasta plate starts at 25LE and goes up to 50LE depending on size as
well as your choice of ingredients which include calamari, crab, shrimp and
clams. We ordered the 35LE shrimp pasta and it was delivered piping hot with
shrimp scampi smothered in rich, peppery tomato sauce complete with four good-sized
crawfish on the side. The generous portions, herbs, spices and fresh vegetables
make for nothing less than seafood heaven. If you cannot decide on ingredients,
simply order the seafood pasta combo, and you will receive a smorgasbord of
seafood cuisine.
Operating within the
same price range, chicken and meat pasta combos are available for those patrons
who may not be in the mood for fishy plates. Those looking to avoid meats
altogether will enjoy the hearty vegetable pasta (25LE) comprised of carrots,
peas, onions, zucchinis, and tomatoes. Still others looking for lighter orders
or lunchtime options will find seafood (20LE), shrimp (20LE) and chicken (15LE)
sandwiches.
Though the heaping
portion of seafood pasta for 15LE that could be ordered two years ago is no
longer available, this should by no means discourage you from visiting
Pomodoro. You may have to fork out a few more pounds, but you will not have to
eat in the street nor use your shirt cuff as a napkin. With a comfortable
atmosphere, plenty of napkins, and most importantly scrumptious seafood pasta,
Pomodoro remains in a league of its own when it comes to seafood in Cairo.