Pool Grill: Luxurious Open Air Grill
Inside Four Seasons Cairo At Nile Plaza Hotel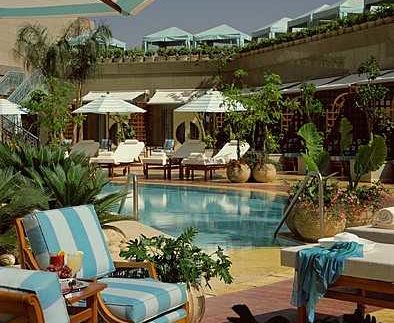 Pool Grill at the Four
Seasons Nile
Plaza in Garden City is
luxurious in the most understated way. Located on the hotel's 5th-floor
spa level, the corridor opens onto a terrace that houses the asymmetrical lap
pool and the Pool Grill. Patrons recline on white chaise longues or
take a table along on the top deck that overlooks the pool area. Pool
Grill is especially lovely in the evenings, when the water sparkles and is lit
up by the softly glowing lamps.
On a recent visit, we opted for the upper deck and were pleasantly
surprised by comfy white couches and air conditioners that miraculously cooled
every table individually. Insulated from the nearby traffic by its high-level
location, the upper deck made the hot summer night cool, airy and quite
refreshing.
Elegant but low-key, this restaurant is a perfect place to sit
outdoors in good weather and sample the tempting menu. The peach, pear and
raspberry mocktail is a refreshing blend of sweet and sour juices, and the ice
tea has a pungent flavour; although it does require a healthy serving of the
sweet syrup served alongside.
Lebanese appetisers are served on a large porcelain tray with
indents for each salad, making an appetiser both delicious and ascetically
pleasing. The hummus was creamy, the baba ghanoug had subtle roasted taste, and
the tomeya was pungent. It was served with fresh baladi bread.
While the menu appears a little sparse– options are limited to
sandwiches, a few Indian curries and some seafood and meat entrées– it manages
to balance innovative twists on traditional dishes. For example, the juicy and
perfectly cooked burger is made of imported American beef and is served with the
most tempting of thinly-sliced golden fries. Grilled chicken comes with heavenly mashed
potatoes served separately; the generous portion is made of blended, creamy
potatoes that melt in your mouth.
The range of Indian and Asian dishes proves a little less
impressive. While relatively tasty, the slightly dry butter chicken made
us decide that it is better to choose those items at specialised restaurant and
opt for the more traditional American grilled fare.
Prices are what you might
expect at the Four Seasons, with grilled chicken at about 150LE, Burgers at 110LE
and anything seafood-related priced far above. Despite the high prices, the
ingredients are top-quality and extremely fresh: the kitchen served some of the
best beef we've tasted in town, and unlike some five-star restaurants that
pride themselves on fashionably small portions, Pool Grill provides large
servings that had even the most enthusiastic diners among us struggling to
clear our plates.