Porta D'oro: Disappointing Italian Restaurant in Mohandiseen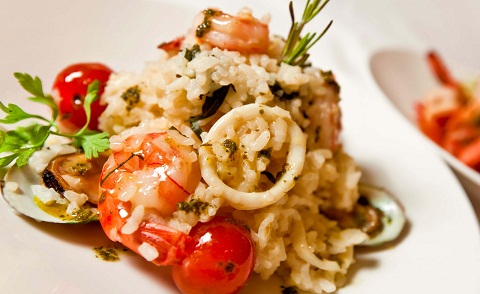 Italian cuisine is among the most popular amongst restaurants in Cairo. Unfortunately, it's also one of the most poorly executed in terms of authenticity, so in our trek for that authentic cuisine, we stumbled upon Porta D'oro.
The wooden façade and bright green artificial plants induce a feeling of serenity. The lighting is subtle and most of the interior is decorated in wood. The downside of the interior isthe large collection of cheap-looking, mass-produced paintings hung along on the walls.
We were greeted by a friendly waiter who showed us to our seats, but also by shockingly loud music, blaring across the restaurant.
The covers a range of different dishes, offering soup, pasta, risotto, beef and chicken dishes and, of course, pizza. We started with a chicken cream Soup (15.95LE) which wasn't as thick as one would expect; in addition, the chicken pieces were sparse. We also tried a tomato soup (15.95LE) which was perfect in texture but average in flavour.
Next, we opted for a seafood risotto (49.95LE) which, sadly, was the possibly one of the worst we've had on our travels; it was literally uncooked rice covered in broth. In addition, the seafood was stale, leaving the whole dish completely and absolutely unappetising.
Hoping for better luck, we also ordered the Steak in Blue Cheese (74.95LE). Cooked exactly as ordered, the sauce was exceptional; the cream took some of the sting out of the blue cheese while preserving its rich taste. The second main course was a Cordon Bleu (64.95LE). The chicken breasts were tender and generous in size, but sadly, the cheese wasn't. In fact, there was so little cheese that all that remained after cooking was grease. The sides were French fries and sautéed vegetables which were served with it were bland at best.
From the dessert menu, we opted for Tiramisu (20LE). Possibly the best dish of the meal, the mascarpone cheese was light and the ladyfinger biscuits were soaked in just enough coffee to become rich but not bitter. The biggest downside, however, was the incredibly small portion.
For the prices charged, we expected better food, because there are simply far too many restaurants that serve the same dishes both better and cheaper.