Prosperos: Simple, Yet Ultimately Unexceptional, Restaurant & Cafe in Maadi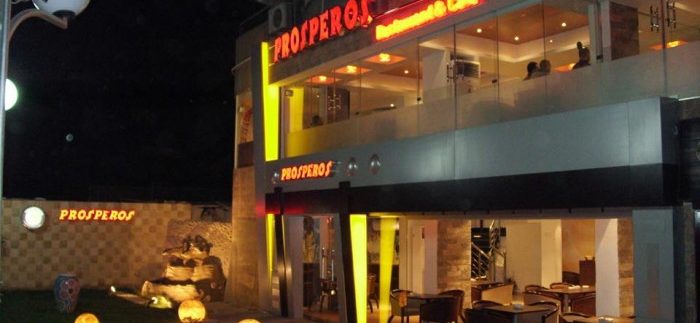 Amongst the many restaurants in Maadi, many have come and gone, trying in vain to stand out with all manner of experimental cuisine. There are some restaurants, however, whose longevity and popularity ore owed to keeping things simple and unfussy when it comes to the food. Tucked away on a quiet road in Maadi, lies a flashy two-storey venue by the name of Prosperos. Yellow and red neon signs aside, the tiled walkway into the restaurant from the garden is decorated with stylish vases, ornaments and ball lights.
The outdoor area has become home to football screenings with simpler tables and chairs setup to face flat screens. As you step inside, a friendly waiter greets you and shows you to a free table. The indoor area is more stylish, with comfortable cushioned chairs and a white-versus-stone colour scheme.
The menu doesn't feature anything exceptional, with the restaurant offering standard international dishes such as steaks, pizzas, sandwiches, salads and desserts, as well as Tex-Mex items.
We opted for a Prosperos for All (44.95); an appetiser platter featuring spring rolls, fried mozzarella, onion rings and chicken wings, to get a sense of how well they handle their frying.
From the main courses, we opted for a Fillet Tex-Mex (74.95LE) and a Grilled Chicken with Fresh Mushroom (49.95LE).
Our food appetiser platter arrived about twenty minutes later accompanied by ranch and marinara sauce. The food was adequately drained of oil after leaving the pan and didn't seem overly greasy, but nothing stood out exceptionally in terms of flavour.
The main courses arrived shortly after. The Fillet Tex-Mex was ordered medium, and it arrived just slightly overcooked. The mushroom based sauce had a bit of a peppery kick to it and it, all in all, kept the meat tender to an extent. The sides of corn on the cob with butter and seasoned sautéed vegetables were pretty decent as well; cooked and seasoned nicely
The Grilled Chicken with Fresh Mushroom was similarly tasty and generous in portion. The seasoned mushrooms were delicious and the chicken was nice and tender. The creamy mashed potatoes were topped with a deep gravy, while the aforementioned sautéed vegetables completed the dish.
With some room left for dessert we decided to give the Strawberry Cheesecake (19.95LE) a whirl. The cream cheese layer rested on a thick biscuit crust and was topped with tasty strawberries.While it was by no means a classic New York cheescake, it was a decent attempt in the contect of Cairo dining nonetheless.
While the food itself was satisfying but ultimately forgettable, the restaurant as a whole provides a comfortable dining experience and would be an ideal spot for a casual family lunch, with reasonable prices and decent value for money.