Quay: The Quiet Alternative
74 Abdel Aziz Al Saoud St.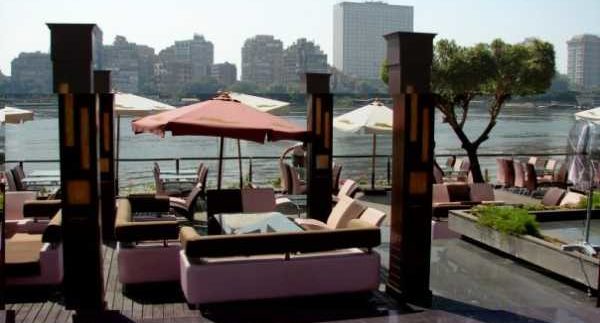 Nothing
beats an outdoor café with a spectacular Nile view. Add friendly staff, great
shisha and, best of all, less hustle and bustle than many popular spots; and
Quay definitely has itself a recipe for success.
Owned by Al Qahira Al-Youm's Presenter Amr Adib, and located on the Manial
Corniche, Quay boasts mesmerizing Nile views the moment you step inside. The café
is situated below street level and set on multi-level platforms facing the Nile,
therefore isolating you from Manial's chaos. Twenty glass tables and plush,
purple leather couches are lined across the outdoor setting. The couches are
extremely comfortable, though they may soon need reupholstering. Conjoined
seats that rock back and forth are also scattered at various tables, adding to
the relaxed ambience of the café.
The fact that Quay has an arguably
smaller clientele than its competitors means that more often than not, you can
walk in without a reservation and be guaranteed a table. Furthermore, their
hospitable staff is always on the look out for any requests a client may have.
Quay's menu serves a reasonable
variety of Egyptian and Italian dishes. While there is nothing outstanding
about their content or variety, their appetisers and desserts are winners. Appetisers
start at 20LE, depending on the dish. Main courses start at 50LE and
while their pizzas cost less (between 30LE to 45LE), they're all absolutely
mouth-watering.
The Alexandria liver with Iranian bread from their entrée section has
just the right amount of green chilli pepper to leave you craving more.
One of their best main courses is
their spicy crispy chicken, which is served with both vegetables and potato
wedges.
For dessert, Quay's brownie oozes
chocolate from every corner, transporting you to chocolate heaven. Add to that
a wide selection of shisha flavours and you may experience true bliss. Needless
to say, covering the 60LE minimum during the week (90LE on weekends) is not at
all difficult.
One of the main drawbacks about Quay
is the fact that it tends to be infested with mosquitoes around sunset.
Furthermore, the purple colour scheme gives the café an almost tacky 90s feel.
There's also an odd flashing disco light on a corner ledge that can be
inconveniently distracting for those seated in its vicinity.
All in all, Quay's laid-back
atmosphere and comfortable seating add up to the perfect little get-away on the
Nile, despite some minor, although avoidable, nuisances.