Raoucha: Lebanese Cuisine in Mohandiseen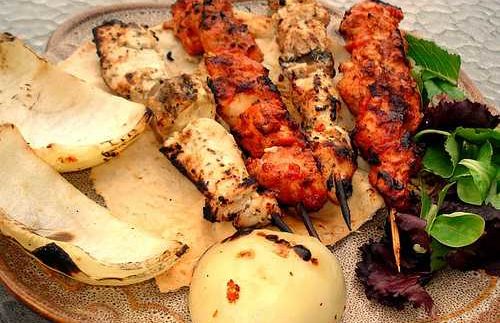 Looking out over Sphinx Square
in Mohandiseen, this Lebanese restaurant has a personal elevator accessible
from the street; but you can enter directly from the sidewalk entrance if you
prefer. With an overload of gold trim and walls of glass, the antique yet
futuristic feel will have you wishing for a time machine.
Raoucha Restaurant does share an adjacent hallway and elevator with the next-door
Indian restaurant Kandahar, but it harbours a
completely different menu. From the black and white photographs of famous
musicians lining the walls to the cosy, thick-cushioned booths; the ambience is
that of a well-polished cool.
The dainty fresh roses gracing the table top and the casual but spot-on
service made this reviewer instantly feel at home. Drinks were quickly served and the chilled mango juice (17LE) was a
refreshing way to start off our meal.
Choices of appetiser range from the standard hummus and vine leaves to a
hot chili salad and motabel. Fresh and insanely flavourful, the motabel (15LE) is
served with the perfect zest of lemon topping a smooth blend of grilled
eggplant, tehina and garlic. A basket of warm shami bread is served alongside a
large plate of raw vegetables, including tomatoes, cucumbers and carrot
sticks.
The menu also offers a continental section, with options such as a
tempting pan-seared salmon; but we opted for the more traditional choice of
chicken fatta (48LE) and for a punch of protein, we chose the mixed grill
(69LE).
The fatta is served minus its typical rice; which is replaced with
seeded flatbread. Comforting with its even taste and delicately sliced
ingredients, the rich yoghurt and lemon sauce meet the palate well, as the
chickpeas, crouton slivers and pine nuts provide a multitude of textures.
Served in a copper-hammered warmer, the mix grill comes with a small
lamp chop, kabab, chicken tawouk and kofta halabeya, in addition to a side dish
of crispy wedge potatoes. While the lamb chop and kabab are both slightly dry
and chewy, the chicken tawouk is perfectly tender and the kofta has a much
appreciated kick of parsley and pepper.
We always have room for dessert, though the wait made us think
otherwise. After its arrival, we were
easily swayed. The fresh and creamy mahalabeya with crushed pistachios was delicious and a
great way to stuff ourselves further.