Revolving Restaurant Grand Hyatt: Cairo's Most Stunning View
Inside Grand Hyatt Cairo Hotel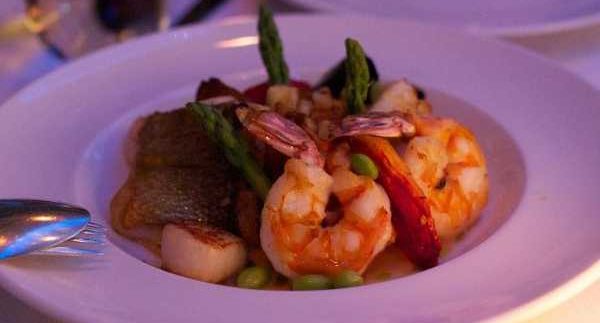 Forty floors
above Cairo's
Grand Hyatt Hotel is a not-so-little and very exclusive enclave of calm over an
otherwise hectic and chaotic city. Once entranced by the Revolving Restaurant's
vistas, you're sure to see Cairo
in a different way. Arriving just before sunset is your best bet for the most
striking scenes of Cairo
by both day and night. Being so high up,
the scope is really mind-boggling; as both the citadel and the pyramids are within
the restaurant's view.
The restaurant
itself is classic and plain, with tables and regal armchairs set up by the
windows for maximum view. The open
kitchen rolls around once every 75 minutes– which is about how long it takes to
complete one round– to impress you with its fanfare, followed by interesting
modern waterfalls.
Food is French
and expectedly pricey. An appetiser of scallops Carpaccio– two-and-a-half
raw sliced scallops with a shredded crab amuse bouche– was 120LE. A very basic (but very fresh and imported)
mixed salad was unmarked, and therefore, we hoped it was complimentary with our
mains – it turned out to cost 75LE.
At 210LE, our pan-fried
lamb loin was the average price for a main, while the mixed seafood bouillabaisse,
a classic French soup stock, was a shockingly unexpected 450LE– that will teach
us not to pay attention. What could justify a 450LE-dish, you ask? Two giant prawns, two large
scallops and two pieces of calamari, in addition to one small piece of fish, a mussel,
soy beans, asparagus, sundried tomatoes, and a lobster tail. Sadly, only the lobster and scallops tasted
fresh enough.
On the other hand,
the lamb loin was a hearty piece of satisfying meat that may have been a tad
too small of a portion, although it came with a side of two overly-crisp potato croquettes,
bland eggplant tapenade, and a tiny smidgeon of green salad.
Drinks were
disappointing. With tempting
descriptions of tropical fruits and creamy Nutella chocolate, our bikini
breezer (30LE) tasted like strawberry banana yogurt, and our chocolate milk (30LE)
was supposed to include hazelnut, but turned out rather bland and didn't even taste of
chocolate.
Dessert was the
best part of the meal: we chose a chocolate tart with 62% grand cru, gold leaf
and milk chocolate curls and passion fruit sorbet– it was fudgy, creamy and delectable,
with the sorbet's tart potency balancing the sweet. Fantastic.
Five hours and
1300LE later– yes, 1300LE, including a 45LE bottle of Evian,
plus taxes and service– we felt no less enthusiastic about the view and
the feeling of utter luxury.