Richoux: It's Tea-Riffic!
CityStars, Phase 2, 3rd Floor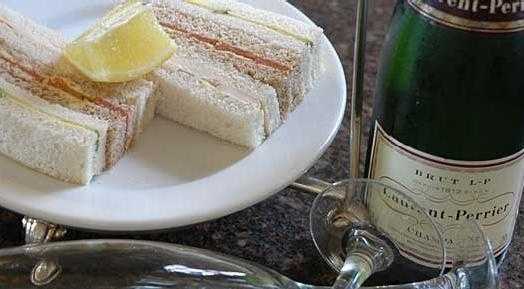 You've definitely seen Richoux before; either in London or (more likely)
in Phase 2 of City Stars. As of this month, they've finally opened a stand-alone
restaurant in the heart of Mohandiseen near the Shooting Club. Let's get the
boring stuff out of the way: the décor is decidedly British tea-room chic. Dark
wooden tables, patterned wallpaper and pictures of tea pots are all surrounded
by more marble than an Italian opera house. The best seating option is at one
of the dark green upholstered booths. All in all, the tone is set for a meal of
quiet indulgence, and not one of brazen American pigging out.
The most important thing you need to know about the food is that you
should budget your gastronomic real estate and your wallet for a three-course
meal. The shrimp cocktail (36LE) is perfectly retro; a vision of the 70s
sitting pretty in a cocktail glass and layered with avocado, lettuce and a rich
cocktail sauce with shrimp tails poking out along the rim. Unfortunately, there
isn't as much shrimp as one would like, but c'est la vie. The mozzarella,
tomato and avocado salad (24LE) is an interesting twist on the caprese Milanese:
instead of basil leaves, a powerful basil pesto is drizzled over the plate.
Main course choices are varied between chicken, meat and fish; and each
delivers confident flavours and simple presentation. Of special note is the
Shepherd's pie (38LE); it arrives in its own casserole dish and is accompanied by
perfectly steamed carrots and broccoli. Another British standard is the fish
and chips (42LE) served piping hot and wonderfully crisp.
A wonderful dénouement to the meal materialises in the form of the apple
pie with vanilla ice cream (22LE). Ok, well, it's not really a pie; it's an
apple cake. But it's a damn good apple cake, and one that takes full advantage
of the broad selection of teas on offer.
With all this great food, it's easy to forget that Richoux is a
self-described tea room. This means that they have something that no other
restaurant offers: afternoon tea, snooty British style. Scones and finger sandwich
towers are provided for 75LE; what isn't included, however, is a title and a manor–
those you have to get yourself. You will be forgiven for any delusions of
grandeur, however, because the wait staff are invisible until you raise your
hand to ask a question. This quality of service is a testament to the training that
they receive; the waiters possess a quiet pride in the fact they're working for
Richoux, and don't treat the job as just another way to make money. The staff bring
the hospitality to the tea room.
A final bit of wonderful information: Richoux is planning on creating an
outdoor air-conditioned area, and the management is also pursuing a liquor
license– but (thankfully for this reviewer) they are saying a firm 'No' to the
idea of including shisha. With this kind of high-minded adherence to quality
and consistency, Richoux will become your next favourite chic hangout.