Ristorante Tuscany: Secluded Italian Dining at the Marriott in Zamalek
Cairo Marriott Hotel & Omar Khayyam Casino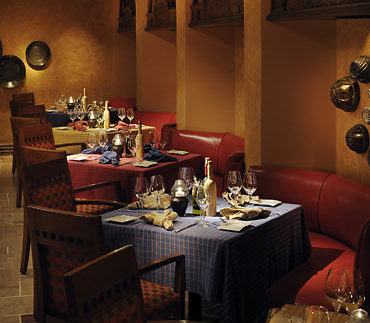 Italian
restaurants in Cairo are a dime-a-dozen; they're not difficult to find but are often
mediocre in quality. We had heard about Ristorante Tuscany for quite some time
so when a last-minute affair was calling, we decided to give it a shot.
Boasting a
Northern Italian flare, Ristorante Tuscany is located on the first level of the
Cairo Marriott Hotel. From the garden area, enter the hotel and you'll find the
restaurant on your right: intimate, quiet and windowless. Simply composed of
two small dining areas, the wood décor and dark colours elude to a classy
Italian style.
Word on the
street is that Ristorante Tuscany's service is top notch and we can now vouch
for that claim. From the moment we entered, and throughout the entire meal, the
service was on point: friendly, informative and not too pushy, yet on-call for
any request we had. Even after a long day, the waiters took great care.
We were
automatically served with a complimentary hot loaf of homemade bread topped
with crusted sun-dried tomato and herbs. Accompanying the bread were two mighty
fine dipping sauces including a smooth pesto and sun-dried tomato.
Quickly
turning to the drinks menu, we weren't surprised to find their wines and
champagnes to be quite pricey. For 240LE, a bottle of the locally produced
Beausolis white wine was delivered to the table and introduced by a proper
taste test. Clear & crisp, it paired well with our rather small but heavy
entrees. Other wines were also available while the champagnes cost around
2400LE.
Ristorante Tuscany's menu is comprised of an array of mouth-watering
options. The restairant is famous for its soups, which
include Zuppa Ai Funghi Di Bosco (65LE) and Zuppa Di Mare (120LE). We decided to test their salads, though.
Quite difficult to choose from was the Insalata Caprese, tempting us
with its plum tomatoes and buffalo mozzarella (75LE), and the Stufato Di
Cariofi Con Mozzarella Di Bufala E Pistacch – an artichoke stew with buffalo
mozzarella and pistachio (75LE). Served with 4 thick slices of artichoke, the
mozzarella coated rather well the tough-to-eat artichokes. The taste was mild
and rich.
The pasta dishes included a variety of raviolis, risottos and pastas
ranging between 75LE and 95LE. For 85LE, our Lasagne Ai Porcini E Mirtilli was
served in a decadent porcini and blueberry sauce that nearly had us licking the
plate. The lasagne itself came in two round stacks and was just as visually
delightful. Seafood and meat dishes are also available, including
porcini-crusted halibut (195LE), grilled rib-eye steak (320LE) and guinea hen
stuffed with foie gras & beef bacon (165LE).
After all
was said and done, our check totalled around 470LE and even though our dishes
were small, our bellies were full and satisfied – but maybe the wine helped
with that. The seclusion of the restaurant makes a perfect place for a private
celebration or date in the evening. If you're lucky, you might find that you
have the entire venue to yourself and the special ones you're with!