66 Omar Ibn El Khattab St.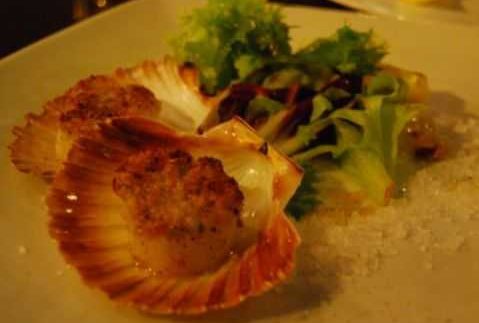 Located in Cairo's elegant suburb of Heliopolis,
Italian seafood restaurant Rossini was preceded by several recommendations The red carpet
entrance leads to a reception area decorated with an aquarium and several
awards, prompting diners to believe that they are about to receive royal
treatment and tantalising, fresh fare.
Unfortunately, the actual experience at Rossini doesn't
live up to its early indications. If the dated decor of the dimly lit interior
feels a bit too stuffy; go for the outside seating area at the back of the
restaurant. You may have to compete with
the resident dog or a whiny street cat for your date's attention, but an in-house
musician playing along to synthesized favourites from The Beatles on his flute, keyboard
and saxophone does his best to distract you from the wildlife.
Shortly before placing our order, a tray of red-pepper-and-rosemary-infused
olive oil, creamy herb dip and black olive tapenade were brought to our table. Bread
followed about ten minutes later, at which point we found the tapenade and oil
to be a real treat with the warm rosemary focaccia. This high point of the meal came with a surprising
30LE-charge at the end of the night.
Moments after ordering, two plates of fish pâté with tartar sauce
appeared at our table; a gift from the chef, we were told. One bite gave this
reviewer a flashback of a childhood disdain of canned salmon. We did our best
to remind ourselves that with gifts, it's the thought that counts.
Our appetiser of baked scallop (124LE) was served in shells holding decadent
amounts of melted butter and sliced garlic.
The scallops were well-cooked and would have tasted fresh had it not
been for the unpalatable seafood stuffing sprinkled atop each piece.
The meal took a sharp turn for the worse as the second courses were
served. At first glance, the lamb chops (116LE) looked pleasing. Unfortunately,
where the meat wasn't overly fatty, it was overcooked; leaving us rather
ungracefully sawing through the meat with the provided butter knife. The onion and balsamic sauce accompanying the
meat was tasty, but broken. A side plate
of creamed-to-death potatoes and poorly seasoned vegetables was piping hot, though
the same cannot be said for the food on the plate.
A bowl of bowtie pasta with shrimp and asparagus in cream sauce (78LE) tasted
strongly of chicken stock and seemed neither fresh nor homemade. The shrimp
became mushy and the two limp tips of asparagus had us feeling slightly
scammed.
We decided to sweeten our evening with a crème brûlée (48LE). Although we first laughed at the soup spoon that
came with the dessert; we soon found out why we weren't presented with the more
delicate dessert spoon: the heavy layer of brûlée encasing the inconsistent crème
proved difficult to crack even with this hefty utensil.