S. Lounge: Sloppy Restaurant & Cafe in Maadi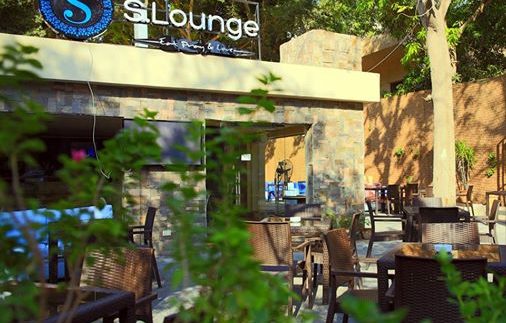 Of the ever-changing venues on Road 9 in Maadi, few have managed to secure a spot and keep it – a curse amongst restaurants and cafes in Cairo. Aside from obvious reasons like super expensive rent and fierce competition, a third and infinitely important factor is service—or lack thereof.
Enter S Lounge, located across from Harris Café; a venue that boasts a stylish looking indoor area and an outside courtyard that extends behind the restaurant itself. We were greeted a little after walking in and shown to a couch around the back as we wanted to avoid the street noise.
In said back area, there are several dark brown tables accompanied by four chairs each, plus several off-white and turquoise couches that match the venue's color scheme. The couches were filthy, looking like they've been gathering dust since the venue first opened a few months ago. There was also a lot of chipped paint and water marks from inefficient drainage on the walls.
The waiter dropped off terrible looking menus that literally looked they just came out of the washing machine and we were dreading what was to come. It took about fifteen minutes for the waiter to show up again. Another, with no pen or pad, insisted we give him our order, and then walked off mid-order to look for the first waiter.
Biting our collective lip, we opted for Whipped Wild Mushroom soup (36LE), Buffalo Chicken Wings (42LE), a Trio Burger (56LE) and Fresh Salmon (90LE). It's worth mentioning that at the time of our visit, half of the menu was unavailable and the staff seemed clueless when pushed for details on the available dishes.
So, thirty minutes later, when the soup and Buffalo Chicken Wings arrived, there were mixed feelings. The Soup, advertised as containing truffle oil, was made with olive oil – and plenty of it too. We appreciate there being more mushroom than cream, but the balance was a little off.
The Buffalo Wings may have been the worst we've ever tried. Consisting of boiled chicken wings coated in a terrible sauce that resembles buffalo sauce in colour but nothing else, it was a complete failure of a dish.
The main courses, which similarly took far too long to serve, were average at best. The patty in the burger was extremely average, and relatively small, which begs the question as to why it could possibly cost 56LE. Despite being cooked and seasoned well, the salmon main course, with sides of mashed potato and rice, smelled noticeably not fresh, while the sides were, again, average.
Frankly, this is a venue we would never go back to. The food is poor, the cleanliness is horrid and the service is one of the worst we've experienced. S. Lounge looks the part, but there was very little, if anything, to entice us back.