Saigon Bleu: Elegant Vietnamese Fusion Cuisine
Fairmont Nile City Hotel, Nile City Towers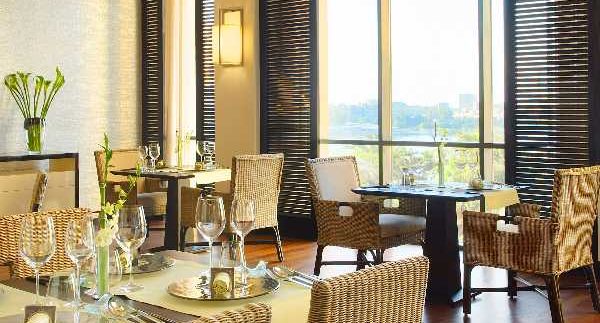 The Capital is full of high-end eateries guaranteed to
impress us as surely as they will break the bank; but even the fanfare of
exquisite French, Italian and Japanese cuisine can start to sound repetitive.
Leave it to the Fairmont Nile City, then, to mix things up a bit with something
new for us to savour: Vietnamese fusion cuisine.
Saigon Bleu is a decadent new dining option inside the
elegant hotel. The kitchen serves nouveau Vietnamese-French cuisine, and has a
reputation for fine and freshly caught seafood and authentic, imported
Vietnamese ingredients. The food is elaborately prepared by Vietnamese culinary
experts, bringing unique tastes and a classy atmosphere to Cairo's dining
repertoire.
For the most dazzling dining experience, reserve a
table that has an all-encompassing view of the stunning Nile, the lobby
waterfalls and artwork, and the window into the kitchen, from which you can
observe the chefs prepare their sophisticated Vietnamese delights.
The vegetable spring rolls appetiser is lightly fried
and crispy in a paper-thin pastry sheath. The rolls are served with a small
bundle of greens. Between all courses, rolls of fresh bread are whisked to the
table, along with unsalted butter and a complimentary garnish of duck pâté.
One of our favourite entrées offers three large and
deliciously fresh scallops served over sautéed greens with sprigs of lemongrass
and a light citrus sauce, capturing quintessential Vietnamese accents and
spices.
The main course of sea bass is served with a mountain
of fried rice flavoured with shrimp, mushrooms and vegetables. The generous
two-piece fillet is complimented with a colourful array of diced carrots,
peppers, garlic and greens. Sadly, the marinade can be overpoweringly salty,
making us wish the chef would add less flavour to the ensemble. The fish itself
is brazed to perfection, and is light and flaky with a ginger garnish.
As far as finales go, the desserts at Saigon Bleu are
a huge success. Options include sorbets, custards, tarts and exotic lemongrass
flambées. We recommend the passion fruit crème brûlée; the fruit makes the
traditionally rich confection surprisingly light and it is accompanied by a
dollop of lemon sorbet.
The one chocolate dessert option on the menu comes
with no less than four varieties of chocolate treats: chocolate mousse served
in a shot glass; a chocolate-and-orange-layered concoction; a slice of rich,
flourless chocolate cake; and a to-die-for dark chocolate sorbet. Desserts are
by far the most elaborate pieces served, with drizzles of raspberry, chocolate
sauces and decorative chocolate shavings.
The restaurant clocks in at the upper price range, and
offers an imported wine list that is at least as substantial as the food and
dessert menus. Without wine or beer,
expect the bill to tally up to almost 900LE for a meal for two. An evening at
Saigon Bleu is bound to spice up the usual dining experience if you're in the
mood for something off the beaten path.