Sakura Sushi: A Slice of Japan in Cairo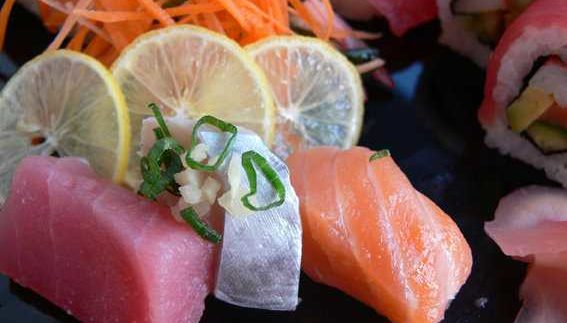 Sushi is still all
the rage in Cairo
and it doesn't seem to be going anywhere anytime soon, but with Makani
and Mori
Sushi dominating the market, it pays to shake things up once in awhile.
Enter Sakura Sushi, a hidden treasure tucked away not far from Ethos
Café in Maadi.
While a sushi
outing to Sakura holds none of the glamour of a night out at Mori
Sushi, the food's quality makes up for the underwhelming atmosphere. Sakura
Sushi has the atmosphere of a true family-style Japanese restaurant: while
the decor is kitschy, service is impeccable and the staff are knowledgeable
about menu options and helpful in providing suggestions.
To start off, try
a traditional miso soup (10LE) or go off the beaten track with a Japanese-style
seafood soup full of crab, shrimp and salmon (20LE). Salad options are much
better than the usual selection at sushi joints, with interesting offerings
like the wastachi, which is made from dried fish, spinach and soy sauce (10LE).
As for Japanese appetisers,
we like the classic yassai tempura, which consists of vegetables fried in a
light Japanese batter and served with a flavourful dipping sauce (25LE) and the
tori karage, a scrumptious fried chicken concoction with ginger and soy sauce
(30LE). There is also a noodle menu with basic ramen and soba options
priced at between 10LE and 50LE.
Non-sushi main
course options provide something above and beyond typical Japanese menus in Cairo. The salmon teriyaki
(60LE) is a well-executed classic at Sakura, made with the freshest salmon and
glorious homemade teriyaki sauce. We also like the shouga yaki, a delicious
beef dish with ginger and soy (55LE). Order rice with these main dishes– Sakura
does justice to this Japanese staple in a way rarely found in Cairo; so take
advantage.
Sushi options are
divided into per-piece selections which range in price from 7LE to 15LE and
include standard selections of shrimp, eel and salmon. The per-piece special
sushi options include interesting offerings such as salmon and tuna slices
marinated in ginger soy and wasabi.
Sashimi is a great
value at Sakura, at 40LE to 65LE for 10 pieces. Maki rolls come in 6 pieces and
are priced at 15LE to 40LE. The 8-piece California
rolls are a great choice. Priced between 25LE to 50LE, there are unique
fillings like tuna, onions and spicy sauce with caviar. A variety of hand rolls
and special combo plates are also available.
With a menu like
this, taking a break from your typical sushi joint is more of a culinary
adventure than a risk: next time the sushi craving hits; head to Sakura Sushi
for unique and delicious Japanese dining.