Salt: Dry-Aged Beef Burgers at Heliopolis Fast-Food Restaurant
Just when you would think there's no more possible room for another restaurant to open in Cairo, a new venue opens, promising a feast for eyes and tummies. One such venue is Salt; a burger and fast food joint which recently opened in El Merghany Street in Heliopolis.
As a small burger joint with only two high tables and four seats next to the cashier, Salt boasts an ambiance similar to classic American diners, with its checkerboard flooring, the red, black, and white colour scheme, a 50s music playlist and checkerboard food wraps and liners.
With plenty of fast food outlets already existing in the area – Manoushe Street and Wok and Walk to name a few – Salt offers a simple concept for classic old school burgers, which highlights the burger's flavours without overdoing the toppings while keeping it simple with just tomatoes, cheese, lettuce and onions.
Perhaps what stands out the most about Salt as a burger place is its use dry-aged beef, where the beef is left to dry for weeks to intensify its flavours. The menu is quite simple with just three side dishes – Chicken Tenders (20LE), Buffalo Wings (20LE), and Fries (8LE) — three beef burgers –Classic (25LE), Cheese (30LE), and Triple (35LE) – and three chicken sandwiches – Classic (25LE), BBQ (30LE), and Buffalo (30LE).
We kicked things off with chicken tenders and buffalo wings as appetisers. Served with honey mustard, the chicken tenders had a thick crunchy crust –maybe a little too thick for the thin chicken— but overall pretty tasty.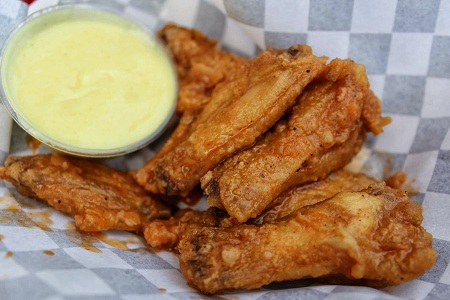 The buffalo wings, on the other hand, were tender and perfectly cooked, but they were too buttery which in a way overshadowed that tangy hot sauce flavour we love tasting in wings and serving honey mustard with chicken wings left us confused – it was just unnecessary.
Eager to try out Salt's dry-aged beef, we opted for the Triple Burger; sloppy presentation aside, it was perfectly seasoned and bursting with flavours. The tomatoes, lettuce and onions were so fresh and the potato roll—possibly the star of the meal— was as light as pillow, with the special sauce almost identical to McDonald's sweet and tangy Big Mac sauce; overall, it would have been a flawless sandwich, except we didn't feel the presence of cheese.
.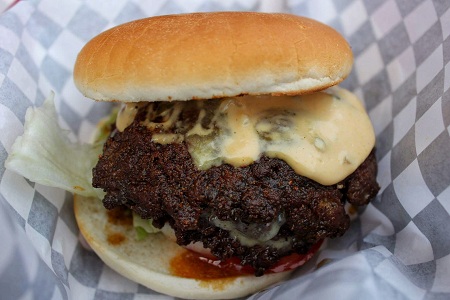 The next thing we tried was the buffalo chicken sandwich. Smothered in buffalo sauce which had a tangy flavour, the sandwich was quite tasty with the chicken still having a discernible crunch to. The only downside to this sandwich was that it was missing some blue cheese sauce and that the bun didn't match the size of the chicken.
We finished our meal with a Brownie Pizookie (25LE) – essentially a cookie shaped like a pizza. Serving four flavours of Pizookie including Brownie, Nutella, and Reese, only the brownie pizookie was available at the time of our visit.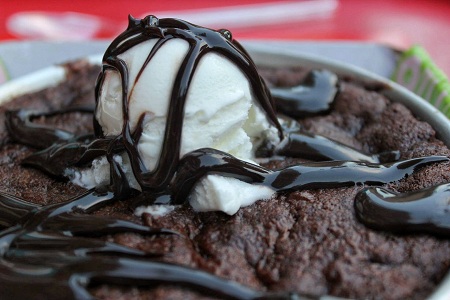 Topped with a scoop of vanilla ice cream and a drizzle of chocolate sauce, unfortunately the pizookie tasted more like a store bought cake mix rather than a cookie.
Overall, we really enjoyed our experience at Salt. All the ingredients are fresh and the quality is quite impressive, not to mention, the dry-aged burgers are incredibly tasty and show a lot of potential of becoming one of the best in the city.