Samakmak: Fresh Alexandrian Seafood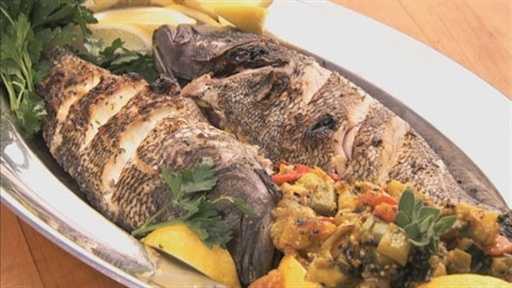 As the nearest coast is at least an hour away, you never know what you're
going to get when it comes to seafood in Cairo.
While Cairo has redeemed itself with a handful
of reliable seafood dining options including the Fish Market and Gandofli, we all know that to
find the freshest fish around, we must venture to Alexandria
or Port Said.
One of Alexandria's
most popular seafood restaurants is Samakmak, which still has our mouths
watering for its undeniable deliciousness. While Samakmak does have a branch in Cairo, there's nothing like dining near the
Mediterranean Sea. Take one look and you can't deny that the fish before you is fresh out of the
water.
Located in the Bahary area, Samakmak is a cosy little restaurant. With
modern decor inside and patio seating available outside, opting for dining al-fresco
made for a relaxing night of stuffing our faces full. At the time of this
reviewer's visit, the dim lighting, checked tablecloths and fresh flowers
gracing the table provided a homey atmosphere.
While the wait staff promptly directed us to the ice box where you choose
your own fish and preferred cooking style; there were no qualms with our
indecisiveness. Patient and well-informed, the staff seemed to have all the
answers to our queries.
For starters and served in a chilled bowl, our green salad came filled
with enough fresh tomato, cucumber and onion to last throughout our entire
course. Rice and pasta options are available on the menu as well, though we
couldn't finish the heaping portion of rice. Served on a large platter, the red
rice was tasty and mixed with a range of herbs. Seeing as how bread is always a
must for us, we received piping hot baladi bread with tehina that didn't
disappoint.
Onto more serious matters: it didn't take long to receive our fresh
catch. In total, our kilo of fish came served in sections. Firstly, we chewed
down on a quarter-kilo each of red mullet and calamari. The red mullet was
fried, providing a decent introduction into our other choices. On the other
hand, the calamari was the best that we've had in the country. Lightly breaded
and fried in fresh olive oil, the calamari was tender; while slices of fresh were
squeezed to death over the calamari, giving it a punch of citrus.
Our sea bass was delectable and satisfying. Barely grilled and buttery
soft, the fish came sliced down the centre and filled with lemon, garlic and a
light cream as well as parsley. Cooked to perfection, if you held it up by the
tail; the meat would literally crumble off. The sea bass is divine.
For 180LE including two cups of tea with fresh mint after dinner, we
were aching for more and left talking about it for days.