Samakmak: Fresh Catch in Mohandiseen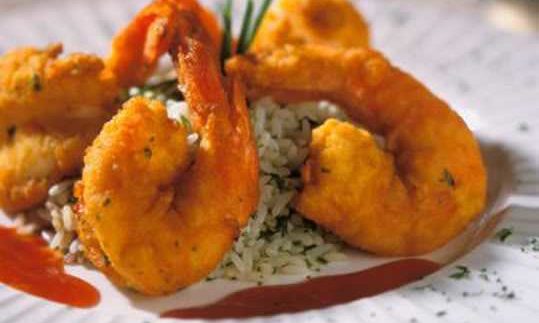 Despite all the great dining variety
the Capital has to offer, we often find ourselves with a deficit of fine
seafood establishments to choose from. Imagine our delight with this
family-friendly seafood restaurant, located in the heart of traffic-heavy
Mohandiseen.
Samakmak is no elegant venue with
white linen and delicate place settings, but it is sure to please the seafood lover's
palette with its menu of fresh, high quality seafood. Despite its Mohandiseen location, diners almost feel as if they could be on
the Mediterranean Coast, eating in some rustic venue along the shore; although the sea breeze and clean air are distinctly lacking.
There are both outdoor and indoor
seating options and at the time of this review, we opted to sit in the late spring
sun. Our companion is a veteran diner at Samakmak, and insisted on making the
orders: our choices were mouth-watering
and left us wanting to return at every chance we get. We started off the meal
with lightly fried calamari in a delectable batter with a plethora of
sliced lemon, to our delight.
We ordered by the kilo and opted for
the butterfly shrimp. These fresh jumbo Red Sea
shrimp were some of the best we have ever had, arriving on a sizable platter
smothered in a heavenly butter sauce. The shrimp were grilled with abundant
amounts of sauce that we could not resist dipping our bread into. We concurred they were totally worth the somewhat high prices.
The oriental salads and bread come fresh
and clean, and they compliment the wonderfully fresh seafood. The seafood rice
was tasty but came long after the rest of the food had arrived, much to our
frustration.
In the end, we left very satisfied,
satiated to the point that we didn't bother protesting when the 1000LE bill
arrived. Our party of five had feasted like kings and queens on the appetiser
of calamari, several dishes of seasoned rice, a host of salads and a
two-kilo platter of jumbo shrimp.
Despite somewhat sloppy service, Samakmak truly excels in the seafood department.
While there is nothing sophisticated about this restaurant, it is straightforward
good seafood and the clientele is not there for well-set tables or the chic atmosphere;
but for the good food.