San Marino: Curiosity and the Korean Cuisine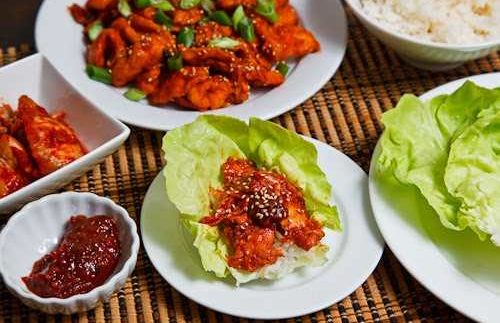 Korean food is no stranger to the Capital– in fact; it appears to be a growing trend. In some neighbourhoods, the oft-quirky Korean eateries have begun to spring up, offering authentic Asian cuisine for locals.
And so far it looks like Maadi has been the most popular neighbourhood for Korean eateries. San Marino is a Korean-Chinese restaurant that offers an experience far from the ordinary from the red-lit sign hanging above the entrance to the pub and pool area immediately to the right with the dining area located straight ahead.
If you are willing to brave the occasional eccentric ambiance for a taste of authentic Korean cooking, then by all means make yourself at home at San Marino. The slightly grungy but humorously decorated restaurant makes you feel like you've entered a rectangular train car transporting you to a land far away. Glass cases line the wall and are filled with knickknacks and key-chains imported from Korea and China. The décor, the clientele and even the TV programs are Korean. In fact, the Egyptian waiters are the only indication that you are, in fact, still in Cairo.
A myriad of complimentary appetisers of roasted eggplant concoction and lightly pickled cucumbers, spiced and curiously delicious, were presented once we ordered.
The menu is extensive and boasts an array of Korean dishes such as pickled vegetable salads, chicken stews and pulled pork, as well as some more well known Chinese dishes like crispy peanut chicken (45LE) and sweet and sour beef (55LE). The Korean barbeque (55LE) is recommended: the beef came out sizzling on a platter, and was tender with a smoky sweetness, while the accompanying rice was steamed to perfection. The sautéed chicken, vegetables and glass noodles (40LE) was a tasty dish, but it was no match for the beef. There is a section devoted purely to pork, although options should please most palates with choices of vegetable stir-fry with garlic sauce and steamed chicken and meat with brown ginger sauce, to name a few. Vegetable, chicken and beef entrées range from 45LE to 75LE.
The service was quite good and both the waiter and owner were quick to help navigate the menu– the barbeque was the owner's recommendation, and was certainly one worth taking.
This restaurant is worth visiting when you are tired of the same routine and want to taste something new and flavourful.