Saray: Döner Kebabs in Dokki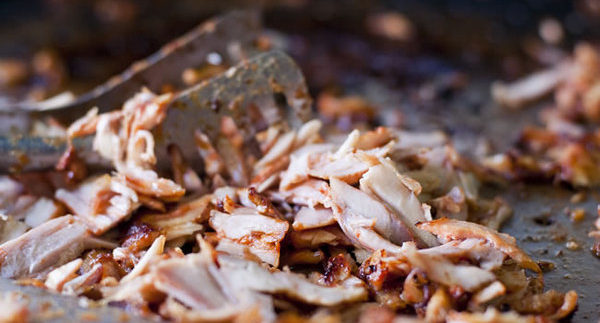 Never has Cairo wrestled and struggled with a food as it has with the döner kebab. We've seen a few pretenders to the king of the döner throne over the years, the latest being
Ali Baba
; the Zamalek stop-in claims to offer Egypt's only authentic döner kebab – big words.
With shawerma being a staple of the average Cairene diet, bringing döner to this city looks good on paper. For some reason, however, Cairo seems impervious to a food that is immensely popular in Europe; the Brits and the Germans love it.
Saray does little to champion the cause – on that front at least. Located on the Shooting Club's adjacent Mecca Street in Dokki, this small takeaway spot gleams along the quiet street. Behind a glass shopfront, the sleek white interior pops like a brand new set of dentures, and then some. Three stools and a narrow counter offer the option of eating in, while an unperturbed cashier sits and revels in the kitchen staff's frantic scurrying.
The döner is Saray's signature piece, though it pales in comparison to the Lebanese and Egyptian shawerma that is also offered. Firstly, it isn't offered in a sandwich but a platter (27LE). The shredded meat comes with some token vegetables and you're left to your own devices. The meat, while cooked adequately and flavoursome, is somewhat dry. For 30LE, you can get the platter with rice, but it only really adds to the drought that you're putting in your mouth.
Although 'döner' technically refers to the preparation of the meat itself, it's popularly served as a sandwich outside of Turkey. It's unclear whether Saray's style of döner is a brilliant piece of re-appropriation or a horrible mistake. It is, after all, the convenience of a sandwich that has made döner so widespread.
But enough of the negativity. Where Saray excels is its shawerma. The somun bread, of Turkey, is fantastic. For 19LE, you can have chicken or meat shawerma pieces stuffed into a half-loaf of this thick, sturdy bread. Joining the meat are long slices of pickled cucumber and a dash of garlic sauce – dash being the operative word here. Again, it's a little dry, but the bread, when toasted, makes for a gratifying crunch.
The running theme of dryness continues with the more Cairo-familiar shawerma in Lebanese saj bread. Also accompanied by pickled cucumber and garlic sauce, the best thing that can be said about the sandwich is that there's little wrong with it. It's fine, it's basic, it's completely inoffensive, but it lacks any zing. The meat, though dry, is cooked to a nice flavour, and the bread tastes fresh, but it doesn't stand up to its equivalents at, say,
Abo Ammar
.
Other options at Saray include, a decent fattah (39LE). Served Lebanese-style, with yoghurt, your choice of chicken or meat on top of rice and a base-layer of bread, the dish also suffers from dryness, so utilising the yoghurt is a must.
As any fast-food should be, Saray's offerings to the ravenous eaters of Cairo are satisfying, easy and convenient. But is it worth going out of your way for? Probably not.