Sattva Steps: Calorie-Counting Restaurant in Zamalek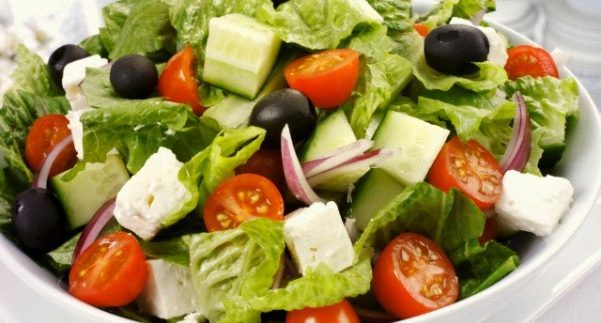 Restaurants in Cairo continue to emerge, aiming to bring new and exciting concepts to the dining scene. Recently opened in Zamalek, Sattva Steps revolves around the notion of clean, healthy eating, with the motto; Eat, Move, Burn.
The small restaurant stands out among the surrounding shops and cafes, with an organic-looking, pale-wood facade, complete with a contemporary glass front and jolly faux-grass accents. Along with just a few tables indoors, a bar and high stools offer extra seating outdoors.
The menu is split into colourful, simple sections of breakfast – served until midday – until the afternoon choices of soups, appetisers, sandwiches and salads, along with meat, chicken and fish dishes take over until midnight. Conveniently colour-coded, each dish is listed with a calorie count, and the number of steps it will take to walk it off; a green label indicates 299 calories or less, yellow equals 300-499 calories, and orange is between 500 and 1000 calories.
With the exception of the burger (52.99LE) – 1036 calories and 25900 steps – nothing else on the menu is above 1000 calories. From the range of fresh juices, smoothies and frappes, we opted for a delicious, chilled, freshly squeezed orange juice (15.75LE).
To eat, we opted for one green labelled (221 calories – 5525 steps) Greek salad (37.99LE), an orange labelled (575 calories – 14375 steps) grilled chicken sandwich (43.99LE) and a green labelled (250 calories – 6250 steps) apple chiboust (19.99LE) for dessert (250 calories – 6250 steps).
The greek salad was generously sized, with colourful, crispy salad pieces, topped with caramelised onion and flavourful, but slightly rubbery, feta cheese. Although undoubtedly the dish was fabulously fresh, we were a little disheartened by the overly-subtle vinaigrette.
Despite being advertised on the menu as being served in Panini bread, the grilled chicken sandwich arrived in a soft brown, seeded baguette. Nevertheless, the juicy chicken pieces, smothered in a thick layer of melted cheese, were delicious. Unfortunately, the olives in the sandwich were a tad overbearing, and had we known the sandwich would be laced with unforgiving chilli flakes, we may have stayed clear of it.
Next, the apple chiboust was scrumptious, with a creamy custard crème brulee top and a fresh apple base, sprinkled with cinnamon and soaked in a sweet strawberry sauce.
Sattva Steps allows diners to make informed decisions regarding the calories contained in their meal, helping to promote healthy eating and excercise; however, the cynics among Cairo's diners could well see it as a gimmick without a pay-off.