Schatz: Casual Italian Dining
55 El Shaheed Abdel Moneim Hafez St.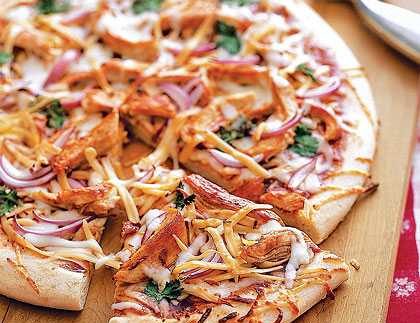 When we heard that there was a restaurant offering homemade
Italian food, reputable shisha and an aromatic espresso, we had to check it
out. Schatz is a family-owned restaurant on a quiet corner off Almaza Street in
Heliopolis that certainly lives up to its reputation. The place has become a
living room of sorts for young, hip Cairenes that long to sit back, smoke great
shisha and have a mouth-watering bite to eat.
Ever heard of nachos with creamy Alfredo sauce? The Italian
nachos appetiser sounded so strange, we just had to try it and we don't regret
it. After one bite, we were believers. Freshly fried pasta chips are baked with
grilled chicken, fresh tomatoes, jalapeno peppers and black olives with a blend
of mozzarella cheese, parmesan cheese and Alfredo sauce. Needless to say, the
plate was licked clean.
The chicken barbeque pizza is a thin-crust pizza glazed
with barbecue sauce and topped with barbecued chicken, fresh mushrooms, red
onions and lots of mozzarella cheese. The ingredients tasted exquisitely baked,
and it was so refreshing to eat fresh mushrooms on a pizza. The pizza was
topped with delicious parsley that gave it an extra fresh taste.
The frutti di mare pasta consists of sautéed shrimps
and calamari in a savoury tomato marinara sauce, which are tossed with fettuccini
pasta and topped with herbs. The pasta was perfectly al dente. The tomato sauce
was made from fresh tomatoes and had a lovely chunky texture; no tomato
concentrate or tomato paste here. Two enthusiastic thumbs up!
Shisha is part of the Schatz tradition. Schatz's
shisha is not only flavourful and fresh; it lasts for up to two hours. With
regular coal refills by attentive coal suppliers, a shisha is never unattended
at Schatz. Available flavours include apple, grape, cantaloupe, lemon and mint.

Schatz also offers some great beverage options. Their
fruit smoothies are made from fresh mangos, strawberries, lemons and other fruits,
and are blended with the optimal amount of ice. The Boreo milkshake tastes like
cookies in liquid form. It's a Boreo lover's dream dessert. Schatz also makes a
fantastic espresso that's like a delightful punch in the face.
There is a 50LE-minimum charge at Schatz; but it isn't
too hard to reach. Appetisers and pizzas average around 30LE, while pasta dishes
cost around 35LE. The shisha is worth every bit of the 15LE price tag. An
appetiser, dinner for two, a couple of shishas and smoothies can go for around
200LE.