Sea Horse Club: Nile-Side Fetar Buffet in Maadi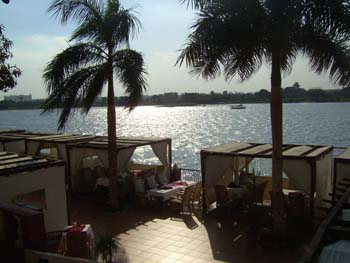 In a city like Cairo, open fetar buffets are sought out by hungry
fasters; its the feeling of choice and freedom that does it . There is, of course, a downside if it happens to be crowded and your access to food hindered. Either
way, we decided to take our chances and check out what the Sea Horse Club buffet in
Maadi had to offer.
The well-known restaurant is located on the Maadi Corniche,
just before the flyover, across from Nile Badrawi Hospital. Looking very similar to
a club, the restaurant is extended along the Nile, with several different
seating areas. The main area is closest to the waterfront, while other seating
spots are available to the side and are covered, slightly further away
from the water and elevated. Walking in, we were hit with the fresh smell
of baked balady bread being prepared on the spot.
Making reservation is easy and can be done on the same day
by phone. The full meal costs 125LE per person and you need to be there a mere
15 minutes before eating time. The place is festive with Ramadan-themed decor and music creating a welcoming atmosphere. Sea Horse Club is very family appropriate and is
also suitable for large groups or events such as an annual office fetar; it is
particularly pleasant at sunset when the colours of the Nile come to life.
The buffet consisted of a range of salads and cold mezzas
such as fattoush salad, vine leaves and sambousak; the soup offered was cream
of chicken with vermicelli. Other available dishes were rice with cinnamon and
liver, basmati rice with curry, stuffed vegetables, lasagne, eggplant
casserole, as well as a variety of grilled meats. The food was tasty and
enjoyable; the vine leaves in particular were good and we appreciated the shift
in cuisines by offering lasagne. However, despite the vast selection and
endless choices there was nothing very special or original about the buffet.
Turning our attention to the dessert display, we found the oven-made
mahalabeya to be great and the zalabya was exceptional. There was a
choice of fruit which included watermelon and cantaloupe but we wished there
had been a wider selection.
The meal includes a single Ramadan drink and a small bottle
of water, so if you wish to have a cup of tea or a Coke after your meal, you
will have to pay for it separately.
Sea Horse Club has been around for years
and their location by the Nile is ideal, but the price of the meal
is a little high for what they offer in terms of food and service. That being
said, we have no regrets in choosing this restaurant for fetar.