Seasons: Wednesday Night Seafood Buffet in Giza
Four Seasons First Residence, 35 Giza Street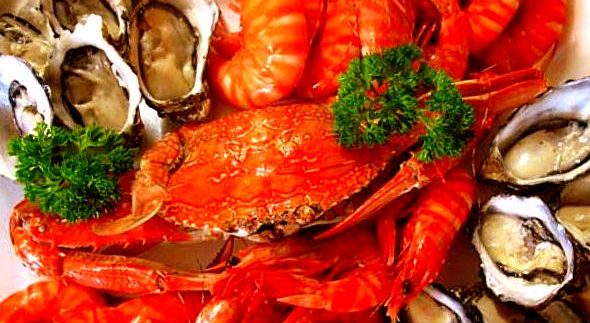 The Four Seasons' signature restaurant all around the world has combined two of Cairo's most divisive dining cultures; seafood and buffet. Every Wednesday, the Nile-side hotel in Giza offers the city's diners a rather lavish seafood buffet – a no-brainer for any Cairene. But Cairo's grasp of seafood has often seen the city's restaurants fall short of Egypt's sea-adjacent cities. Questions of freshness and recent reports of sewage-strewn fish have made seafood in Cairo a risk. But that shouldn't be an issue for one of Cairo's premiere hotels, right?
At 290LE ++ per person, diners have a whole ocean of aquatic treats, in all of its variations, awaiting them. The restaurant shows class most in the sushi and fresh fish counters, both of which can be made to your exact specifications. From said sushi counter, the crab roll was pretty pedestrian, while the tuna and scallop were outstanding – full of flavour, a perfect soft texture. Both were also fresh, while the crab sticks in the crab roll didn't differ much to the supermarket-stocked example.
Sitting on a grand arrangement of ice, the restaurants parades its fresh fish options at the entrance. As mentioned, all available options are prepared to your choosing, and the steamed crab comes highly recommended. Served in the crab-victim's shells, the dish comes in varying portions – so you have to be fast off the mark when in company. The crabmeat itself is soft and proves that old adage that seafood should taste and smell of the sea – not fishy.
As for the predominant self-serve aspect of the buffet; it's pretty spectacular. Everything from shrimp konafa and fried calamari to fresh smoked salmon and steamed fish dumplings are on offer. The shrimp konafa is a particular highlight; though more and more restaurants around Cairo are trying their hand at the dish, you'd be hard-pressed to find a better example of it than here – it combines the smoothness of the shrimp and the soft crunch of konafa perfectly. The dumplings are somewhat of a mixed bag. It takes a real fan of the delicacy to truly appreciate it. The soft, hot rubber texture feels more suited to a dessert, particularly one white, foamy, bulbous variety.
Said dumplings can be found on the peculiar 'Thai table' – peculiar because it also offers beef noodles and vegetable spring rolls among other seafood-less options.
A range of oriental sweets and chocolate based desserts are also available if you can bring yourself to eat anything more after demolishing all seafood in sight.
The real highlight, however, was rubbing shoulders with former US President, Jimmy Carter, at the salad table. True story.