Sequoia: Local Nile Lounge Continues to Generate a Buzz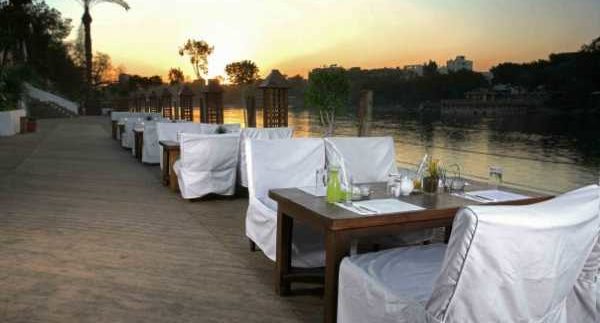 Arguably one of Cairo's most popular places to dine and lounge, Sequoia Restaurant and Lounge begs the question: what keeps people coming back? One is hard-pressed to find either a native socialite or vacationer who hasn't reclined on the luxurious couches, enjoying the shisha and the panoramic view of the city while the waters of the Nile lap gently below.

The first Sequoia experience leaves a lasting impression: a white canvas tent covers the dining area during the colder months, giving one the impression of entering an exclusive, dreamlike domain as you walk onto the floating restaurant. In the summer heat the venue is open air, making daytime dining a sweltering, albeit scenic, affair. The white canvas lounge chairs and flowing robes of waiters add to the enchantment of what we shall term "the Sequoia effect."

But where does the magic really come from? Certainly not the menu. While the assortment of oriental dishes are fair – from molokheya to fried liver sandwiches, to the more common shish tawouk and kofta – there is nothing truly remarkable about the cuisine. The beverage choices are standard, with classic sodas, fresh juice, and some beers and wines. A big selling point is the sushi, with the menu imported from local restaurant Mori Sushi, making for an expansive array of dishes to choose from. The sushi servers are generally much more efficient than the in-house waiters, who sometimes stumble over the menu even though it hasn't changed in years.

There is of course some room for innovation. Instead of going with the usual apple or peach shisha, be adventurous and ask to hear the house specials; the blend of banana and vanilla flavoured tobacco can be a surprising treat. While that may be as exciting as the evening gets, most of us can expect to return, again and again.

Service can be frustratingly slow on weekends when tables are filled to over-flowing, and the food is sometimes less than spectacular. Sequoia is nonetheless undeniably a staple for informal gatherings, a fall-back venue for birthdays, or a solid choice for a casual date. Bottom line, when all else fails, Sequoia generally offers a safe and satisfactory solution to an informal evening out.

The restaurant is open for lunch and dinner, and serves a special Saturday brunch menu. At the moment weekend-goers are charged a 100LE minimum, but by the time this review is published, it may well have increased; as any regular knows the minimum is constantly on the rise. Say what you will, Sequoia remains one of the top and most popular lounges in Cairo, and we all know we'll be back for more.