Sequoia: Nile-Side Ramadan Buffet in Zamalek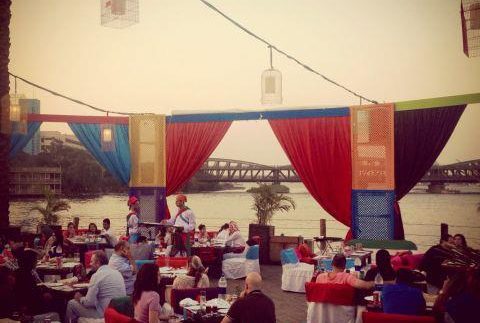 For as long
as we can remember, Zamalek's coolest cats have forever frequented Sequoia,
making it one of the most popular café-come-restaurant-come-a place to waste
away hours of your day. To some extent, the opening of Left Bank has both
rejuvenated and overshadowed the open-air venue, an occurrence that has
seemingly thrown the owners into gung-ho mode about Ramadan – they've really
not pulled any stops.
The
colourful décor seems pedestrian at first glimpse, though once the sun has set
over the sandy Cairo skyline, everything comes to life. Lamps encased in bird cages of various shapes
and sizes hang with no particular design or arrangement, and the space is
treated properly. It isn't cluttered or flamboyant; its proximity to the Nile
and the sky sells Sequoia better than any overly designed piece of furniture
could ever do.
For
Ramadan, Sequoia is offering a buffet fetar at 200LE per person. Though it was
far from full at the time of our visit, reservations are recommended.
As you wait
for the evening prayer call – the signal to go nuts – water and small,
shot-glass-sized Ramadan drinks are brought to your table before one of the
Amina K. Design-clad waiters (more on that later) calmly signals that it is time
to eat.
After a day
of fasting, the sight of all those stainless steel domes of food really gets
the adrenaline pumping. Three separate stretches of tables hold feasting
delights of all kind. Of the salads, the humous, baba ghanough and tehina were
fresh and full of flavour – the perfect way to re-introduce food to your
out-of-use taste buds. Other options include some slightly under-pickled
Egyptian pickles and an assortment of balady-style salads.
One of said
stretches is dedicated to grilled foods; kofta, chicken on the bone and shish
tawouk-style chicken cubes are just a few of the options. They also happen to
be the best, although take heed; once the food goes cold, which it seemed to do
rather rapidly, the grilled meats become tough and lifeless.
The main
section offers much more decidedly Egyptian dishes, including that old classic
of kawaraa – an unholy use of bone marrow and knuckle meat from the leg of a
cow. This slightly off-white, jelly-like dish is definitely an acquired taste,
but with a bit of seasoning it's truly amazing. Other notable foods included vermicelli soup
that had a bit too much fat floating in it, some decent stuffed vine leaves,
watered-down but garlic-strong molokheya with chicken and perfectly cooked,
tender beef liver.
However,
the food really falls down on its oriental desserts. Everything seemed a little
stale, like it was left uncovered for too long. The only saving grace was the
crème caramel, which was chilled and delicious.
The usually
attentive, but often distracted, staff are dressed quite peculiarly. Designed by Cairo hotshot Amina K, their
outfits consist of a classic white galabeya with colourful pocketed aprons and something
that looks like a bikini top and a gun holster.
Either way,
Sequioa's fetar is adequate. The food is good, but it's the location and ambiance
that make it what it is.