Shawermer: Fresh and Cheap Syrian Sandwiches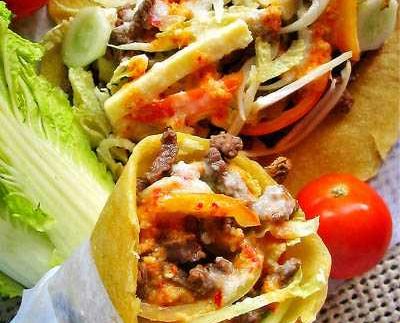 Although Cairo isn't hurting
for shawerma stands, as they can be found on nearly every corner; the quality
is not always present. Often, your sandwich is either dripping with grease and
slimy fat, or the bun engulfs the shaved meat to the extent that it's not even
tasted.
Sticking to the basics yet
taking it up a notch, Shawermer's takeaway locations across the city are
reliable, consistent and always offering the freshest of shawerma.
Unfortunately, it's only a grab-and-go kind of place, but if you happen to be
passing by in your car; yell your order out the window, and they'll scurry up
in no time. They also deliver across the city, but with a 20LE-minimum.
Boasting its Syrian origins,
Shawermer serves sandwiches rolled tightly in fresh Syrian bread; much better
than a stale bun that you often receive from other shawerma joints. Choices of
chicken, meat, kabab and fish are offered in the affordable range of 10LE to
12LE. The chicken shawerma (11LE) is pretty heavenly and always cooked just
right. It's served sliced in small bite-size portions, not only making it easy
to handle but better for savouring the flavour. Fresh pickles and garlic dip
accompany each sandwich.
Hawawshi (10LE) is a good
choice if you're in the mood for something different. The minced meat is
delicately tossed with parsley and onions, providing a little kick and a
protein boost.
Combos and platters are also
offered, including grilled quail and your traditional kabab. All come with a
side of fresh French fries that blow any fast-food chain out of the water.
Seasoned with a Cajun zest, they aren't your typical French fries. Combos start
at 19LE and with a coke to wash down your recent eats, the price tag isn't
hefty.
Whether you're looking for a
late-night eatery or simply craving a little shawerma, this takeaway restaurant
won't disappoint you. Order time maxes out at 45 minutes and is always worth
the wait.