Shogun: Heliopolis Teppanyaki Treat
Intercontinental Citystars Cairo Hotel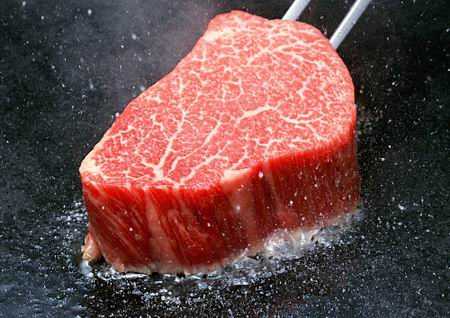 Where in Egypt can you find dinner and a show under one roof? At Intercontinental Citystars' Japanese
restaurant Shogun; that's exactly what's in store for you.
Shogun is a California-based chain of restaurants that specialises in
sushi and teppanyaki. The latter is definitely their forte: delicious, filling
and fun to watch; while their sushi menu is lengthy, and lacks authenticity.
A fish tank in the centre of the dining room is a pleasant touch in a
rather cheesy restaurant that is reached by way of a step bridge over a fake
river. Patrons have their choice of sitting at regular tables, which are perfect
if everyone in your party wants sushi; or the teppanyaki tables with
countertops around the flat grill.
This is not the best sushi restaurant in Cairo; true the fish is fresh, but the
combination and execution are a little off. California rolls (65LE) are served with
mayonnaise even though it is not listed with the ingredient on the menu. The tekka
donburi (150LE) is a bowl of sushi rice topped with plenty of thinly sliced red
tuna. It is a good option if you are craving fresh fish and want to fill up
without paying for a huge amount of sushi.
Though Shogun isn't our top sushi pick in town, try it out on Mondays when
all-you-can-eat sushi costs 150LE++ and includes nearly everything on the long
list of maki, sashimi and nigiri. Just don't expect to find edamame or seaweed
salad on the menu here.
The non-sushi menu includes soups, salads and entrées, but the best deal
at Shogun is the teppanyaki meals (ranging from 195LE to around 300LE, depending
on your choice of protein), which include miso soup, a shaved cabbage salad in
sesame dressing, teppan meat, vegetables, fried rice and a fresh fruit plate. While the soup's tofu is a bit overcooked and
the salad's dressing is rather weak, the meal is still more than
satisfactory.
Watching the chef work– and toss the pepper shaker behind his back
while balancing eggs atop one another on the hot plate– is a great pre-dinner
entertainment. The main course is delicious; the only downside is waiting for
it to cool! The marinade is heavy in garlic and not as salty as those of many
of Cairo's
Teppanyaki restaurants. The succulent meat, savoury vegetables and fried rice
at Shogun give us a real Japanese-inspired treat in Heliopolis.