Skinny Pizza: Delivery-Only Healthy & Gluten-Free Pizza in Dokki
60 Giza St. (Delivery Only)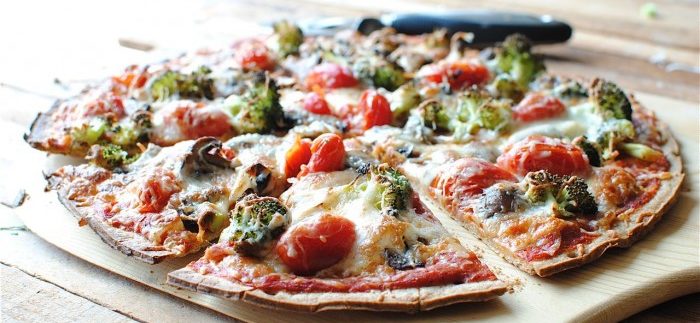 There are a number of words that are rarely conjured up when you think of pizza in Egypt; 'healthy' and 'authentic' are just two. Sure, there are a few novelty pizzerias that manage to keep away from the localised grease-fest we call pizza, but for the most part we, as Egyptians, don't quite get pizza.
We recently heard about a new delivery-only pizzeria in Dokki called Skinny Pizza; just the name alone was intriguing – does skinny mean we didn't know healthy pizza or thin pizza?
After finding the menu online, we found out it was actually both. They serve both low fat pizzas, gluten free pizzas and regular thin crust pizzas. We only know of one other venue that serves gluten-free pizza, so we had to get ourselves some to see how they compare.
The low fat and thin crust pizzas come in two sizes, but the gluten free option is only available in the large size. We opted for a Gluten Free Bolognese (55LE) and a Mushroom and Olive (52LE) from the skinny pizzas.
Our food arrived roughly thirty minutes later, which is pretty decent for a takeout pizzeria. We decided to dig into the Bolognese first which featured tomato sauce, mozzarella cheese, minced beef and onions. The dough really surprised us, being both decently-cooked and extremely filling. The large pizzas aren't the biggest you've ever seen, but they can feed two if you're not ravenously hungry. The tomato sauce was delicious, as was the melted cheese with the minced beef.
The Mushroom and Olive pizza, which features tomato sauce, low fat cheese, fresh mushrooms, olives and oregano, was particularly tasty. They also mention the nutritional value per slice, in this case 96 Cal, which is impressively low for such a full-flavoured pizza. The crust was thin enough to be authentic, but still thick enough to not flap. The taste of mushrooms, tomatoes, cheese, olives, and oregano is one of the simplest amalgamations of flavours, yet when executed well, yields glorious results.
Overall, though it won't necessarily blow your socks off, there's little to complain about with Skinny Pizza; the delivery was swift, the food was much healthier than a standard pizza, yet still as satisfying – if not more so.