Som3a Basha: Street Food Sohour at Cairo Marriott Hotel"s Ramadan 'Kheima'
The way in which restaurants, cafes and hotels treat the concept of sohour has always been one of Ramadan's best perks, especially if it's accompanied with great food, great atmosphere and live entertainment. And while many tents this Ramadan have impressed, the return of Cairo Marriot Hotel's Som3aBasha has made sure that there's a level of sophistication to the sohour experience.
Taking a spacious, courtyard-like space outdoor, Som3a Basha's various elements come together perfectly. From the surrounding palatial architecture and live entertainment, to the retro food carts, the whole experience made us feel like we fell into some kind of 'throwback Thursday' post.
The buffet (240LE per person with an additional 80LE for the grilled section) consists of several food carts including foul, falafel and sausage, along with a salad bar, eggs station, freshly baked bread zone and, of course, the desserts and Ramadan drinks.
The salad bar is all about fresh vegetables and cold mezza dips like hummus, tehina, and labneh, but the baba ghanoug stood out in particular for its remarkable flavours – fresh and smokey. The soft and light bread at the bread station, meanwhile, is baked right in front of you.
Moving to the falafel cart – which also offers kobeba and sambousak – the falafel was perfectly seasoned, had a crispy exterior and was neither oily nor dry from the inside. The minced beef sambousak, meanwhile, was bursting with flavours from the spices and seasoning andthe dough had a crunch yet stayed soft. The only blip came with the cheese sambousak, which had a lot too much mint and was a little overwhelming.
Moving to the sausage and liver cart, there are few words that can describe how delicious the sausage was. The fino bread was super soft, the texture of the sausage was far from grainy or mushy, the onions were caramelised which added some sweetness to the equations and the ratio of pepper and onion to sausage was just right.
With so many luscious desserts like belila, mini konafa, classic atayef, basbousa, fresh fruits and much more, we couldn't try everything, but we went with zalabya and atayef with fruits. The zalabya was super crunchy with a spot-on amount of simple syrup and we can tell that the oil was fresh because zalabya can easily absorb any rogue flavours from previous foods. Filled with cream and fruits, the atayef were perfectly cooked, the cream had a custardy flavour to it and adding kiwi gave a zesty flavour and balanced the sweetness.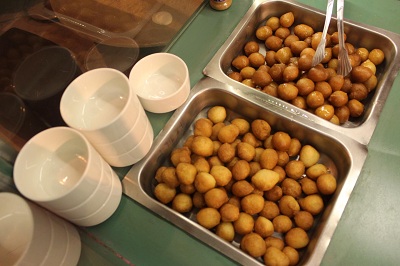 Overall, we had a great time at Som3a Basha; though the price of the buffet may seem a little steep, the chilling ambiance and the well-executed food hit all the right notes.
(Photos: Cairo Marriot Hotel & Omar Khayyam Casino/Facebook)